Review: Chernobyl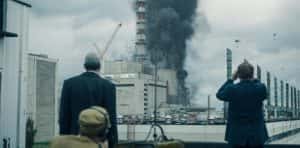 Courtsey of Sky ©Sky UK Ltd/HBO
Documentary-style movies based on true stories have become more popular in recent years, one of the many successes being Bryan Singer's Bohemian Rhapsody and Dexter Fletcher's Rocketman. HBO have followed this trend, using their platform to distribute an original miniseries, Chernobyl.
The series begins with the explosion of the Chernobyl Nuclear Power Plant in the distance, setting a sorrowful tone for the remainder of the five-episode season. Responders, these being firefighters, arrive to desperately suppress the blaze. Immediately, it's conveyed that they aren't adequately equipped to stop the fire. The radiation is a true invisible monster that will put an end to all its surroundings, should they have enough exposure to it. So, from the very start, you know the devastation that is yet to unravel.
After all of the hype surrounding the series, I didn't expect it to be as compelling as it was. With the Chernobyl disaster, you only think of the power plant and the fact that the place is now a no-go due to the masses of harmful radiation. As the show progresses, it tells an incredible story of how the people involved helped stop the disaster from worsening, from the three divers who risked their lives to the scientist who investigated and crusaded the containment of the disaster, Valery Legasov.
In my opinion, Chernobyl was annoying at times (not with any part of the dialogue or CGI), just some of the characters involved. One in particular, Anatoly Dyatlov, the deputy-chief engineer of the power plant. Through the first episode, he refused to believe that the RBMK reactor had exploded and sent people to expose themselves to high levels of harmful radiation, without without the proper PPE (personal protective equipment), according to the show. Why? If even one person said the reactor had blew, why not believe them and inform the next person above? 
As you get to the final episode of the series, it gives an insight into how the disaster occurred and how it could have been avoided in the first place. This out of the amazing series, is the best episode of the show. Not only does it blow open Russia's cover up on the disaster, but informs the viewer of what really happened on that fateful night that cost so many people's lives, and the evacuation of a large area in the days ensuing the event.
Chernobyl is a compelling story from start to finish, showing us what happened behind the scenes, shedding light on those who worked hard to save humanity, risking their lives to protect millions. Some heroes don't wear capes, and thanks to HBO, we now know those heroic figures.