GiggleGuide – This Week's Comedy Gigs
17th May 2017
Peff Soulsby from NE Thing Funny brings you a run down of the North East's gigs to make you giggle.
Monday 15 May
That's Your Lot, The Stand Comedy Club, Newcastle
Join Glaswegian comic Limmy for a night of storytelling and chit chat as he introduces his second book, That's Your Lot, featuring stories that are dafter and darker than ever before.
As well as hearing snippets from the comic's new book, the audience have the chance to fire questions at him during a special Q&A section.
Tuesday 16 May
Plan Z, The Stand Comedy Club, Newcastle
Host of the satirical political comedy podcast The Bugle ("an audio newspaper for a visual world"), Zaltzman's show addresses diverse issues such as the past, the present, the future, body surfing and the unending volcano of confused fury that is modern global politics.
Babble Gum, Split Chimp, Newcastle
Launched last September, this open mic night is preparing for it's 9th outing. With a rotating host and four new performers each month, it's a fun and heartwarming evening of comedy, spoken word, and music.
Wednesday 17 May
All Star Stand-Up Tour, Tyne Theatre & Opera House, Newcastle
The 39-date All-Star Stand-Up Tour stops by Newcastle this week, with a team of world class comedians. The international line-up of Stewart Francis, Justin Moorhouse and Mike Gunn and MC Jarred Christmas have a multitude of TV credits between them – from 'Mock The Week,' 'Live At The Apollo,' 'Phoenix Nights,' '8 Out Of 10 Cats' and 'Michael McIntyre's Comedy Roadshow.'
Red Raw, The Stand Comedy Club, Newcastle
If you prefer your stand up a little more rough around the edges, the weekly Red Raw show at the The Stand gives up to ten new acts the chance to test their legs and test their material.
Thursday 18 May
George Rigden with MC Rob Mulholland, Pothouse, Hartlepool
Hilarity Bites bring their low-cost high-value comedy to The Pot House in Hartlepool, with hotly-tipped stand up George Rigden, who was shortlisted for BBC New Comedy Award 2015, and most recently nominated for 2017 Leicester Mercury New Comedian of the Year.
The Suggestibles, The Stand Comedy Club Newcastle
The North East's favourite improv group are back for their regular show at The Stand. It's been a few months since all six were on-stage at the same time, but this Thursday Rachel Glover, Tom Walton, Bev Fox, Ian McLaughlin, Carl Kennedy and Alex Ross are re-united, so it's going to be extra-special!
Stewart Lee – Content Provider, City Hall, Newcastle
Sardonic stand-up Lee comes to Newcastle's City Hall for the first of two nights. Check out our preview here:
https://www.northernlightsuk.co.uk/2017/02/14/preview-stewart-lee-at-newcastle-city-hall/
Friday 19 May
Mixtape – The 90s, Live Theatre, Newcastle
An inspired mixture of comedy sketch show, pub quiz, and musical nostalgia. Every word spoken by the performers will be taken from song lyrics – from boy bands to dance anthems, grunge, and summer pop hits. Working in teams, the audience has to work out where these chopped up lines are originally from.
Alex Boardman, George Rigden, with MC Jonathan Mayor, Bishop Auckland Town Hall
Hilarity Bites Comedy Club in May is headlined by Alex Boardman, fresh from a UK tour supporting football legend Eric Cantona.  A writer for performers as diverse as John Bishop, James Corden, Lily Savage and Liza Tarbuck, Alex has spent almost twenty years as a full-time comedian, and is one of the most sought after acts on the circuit.
Saturday 20 May
Katy Brand: I Was a Teenage Christian, The Maltings, Berwick upon Tweed
Best-known for her TV show 'Katy Brand's Big Ass Show,' this new show sees the comedian relive her teenage years as a fervent evangelical Christian. It was a big hit on the Edinburgh Fringe
David Hadingham, Katie Mulgrew and Cal Halbert, Planet Leisure, Newton Aycliffe
Hilarity Bites comes to Planet Leisure in Newton Aycliffe, with stand up David Hadingham, impressionist Cal Halbert, a newer act in the middle, and host Katie Mulgrew.
Sunday 21 May
All Killa No Filla, The Stand Comedy Club Newcastle
Join comedians Rachel Fairburn and Kiri Pritchard-McLean as they explore a shared passion… serial killers. In this live version of the hugely popular podcast the pair will talk all things murder and macabre while having a right laugh doing it.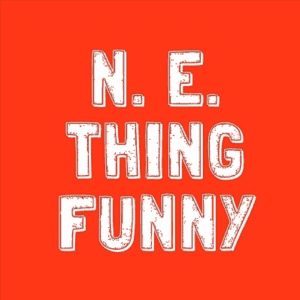 N.E. Thing Funny brings you news, reviews and interviews from the North East of England's comedy scene, listen live on Spark every Monday from 10am.