MUSIC REVIEW: Don Broco – Stay Ignorant and T-Shirt Song
20th November 2017
It has now been a week since Don Broco played their biggest UK headline show at London's Alexandra Palace. Playing a sold-out show to 10,000 people, they certainly put on an amazing show.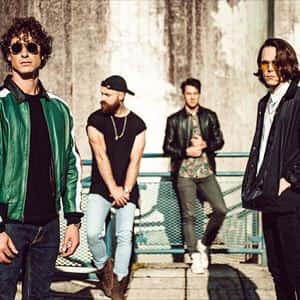 At the beginning of October, they announced that their third album Technology would be released on February 2, 2018. Having already released five songs from the album: Everybody, Pretty, Technology, Stay Ignorant and T-Shirt Song, fans have already been going crazy for these records.
Everybody and Pretty were released in 2015 and 2016 and have been a huge success and back in July of this year, the band put out the single Technology. In October and November they released the audio and music videos for Stay Ignorant and T-Shirt Song.
Northern Lights contributor, Charlie Noble reviewed their two most recent tracks: Stay Ignorant and T-Shirt.
Stay Ignorant
Stay Ignorant is the second track on the Technology album and was released on October 6, shortly after the announcement of the new album, as a result there was still a large buzz around the band to see what their next move was going to be.
This particular single starts off quite different compared to their other tracks, with a fast beat made in a way you would not expect from a rock band like Don Broco.
Up until about 45 seconds into the song, there isn't much of a rock vibe as the only instrument we hear is a strum of an electric guitar. There isn't a loud drum beat or heavy vocals; everything seems quite soft – which is quite different.
Speaking in Kerrang Magazine, the guys say: "It just feels like s–t is going down the pan worldwide and we're living in a constant state of fear. I will be on the news every day and keeping up to date with what is going on. In a way it got me down, especially with what is happening in Syria. I watched a movie called the White Helmets, and it really did hit me hard – people are dying for no reason at all. And that's what Stay Ignorant is all about really."
Further into the song the instruments really start to kick in with a heavy drum beat and a louder guitar to accompany Rob's vocals as they become more powerful, which lives up to the expectation of a Don Broco song, it really builds up the suspense for the 2018 album release.
This promotional single for the 'Technology' release has set a very high bar for the band to live up to with their third studio album.
Their website gives an in-depth look of their album:
"The new album finds the band filtering their charismatic 80s pop-infected rock, through far-flung genres of metal, funk and electronics. The result is a record featuring the band's most inventive, intelligent and infectious songs yet, with tracks inspired by their world tours ('¥'), fake news (Stay Ignorant, Technology) and the effects of the Brexit campaign ('Porkies', 'Something To Drink'), while also addressing personal privacy and smart phone surveillance ('Good Listener') amongst songs inspired by relationships ('Play It Cool', 'Tight Rope', 'Got To Be You') and their experiences in the music industry ('Come Out To LA')."
T-Shirt Song 
T-Shirt Song is the newest single released by Don Broco before the release of their new album in February 2018.
The songs opens with a steady drum beat paired with a bass strum before the heavy guitar riffs begin. Throughout the song, the bass plays the main instrument with only hints of guitar being played throughout the verses and when it reaches the chorus, the song really starts to kick in. It holds similar vibes to their 2016 single Pretty.
This really sets the tone for the song as it gives the fans an intense feeling of exactly what Don Broco's sound will be like on the new album, as they like to change their tone for each album. The feel we have is that it will be a lot heavier compared to the Automatic and Priorities albums.
Speaking about the song on Radio 1's Rock Show, lead singer Rob said:
"It's one of the most emotional songs on the record, inspired by a close friend who had just been through a dark break-up. While writing the song it was also a difficult time for me emotionally, and one night I found myself in a club where the DJ was playing the Baywatch theme tune. Anyone who's been to a cheesy club night will know this is the moment everyone takes off their T-shirt and swings it round their head. I didn't really feel like it, but I joined in and as stupid as it sounds it really made me feel better. That was the start of the process by which I came to realise there was light at the end of the tunnel. This song is about going through hell and coming out the other side stronger for it."
At different points in T-Shirt song the instruments become quite mellow and quiet as the lyrics become very sombre. For example, the verse starting with" "They're saying there's one song left no time for regrets" about one minute 35 seconds in, the music in the background becomes quite low and quiet with it only being a small hit of a drum, this matches the vibe of the song at the moment as Rob Damiani sings of his emotional time.
Overall, this song is a fast rock song with a deep meaning that can be interpreted differently by each specific person, which makes it very unique and special to each person.
You can pre-order the album here and you can also purchase tickets for their February UK tour here
Listen to the bands podcast below: