GIG REVIEW: Don Broco at Northumbria University
21st February 2018
The City of Newcastle came alive on Monday night when Don Broco performed to a sellout crowd at Northumbria University's Student Union.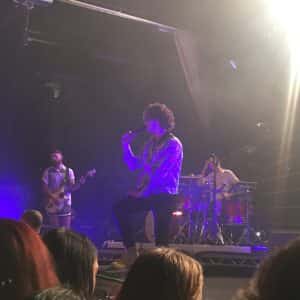 The Bedford lads came up to the North East as part of their Technology tour and what a night it was. Having not played a show in Newcastle since their 2016 Priorites/Automatic tour at Riverside, we were are all ecstatic when they announced that they were returning to the Toon.
Being a big Don Broco fan myself, I even travelled up and down the country three other times to see them on this tour, but I looked forward to this show the most as it was a gig close to home and a one that I could have one or two (or ten) drinks at as I wasn't the designated driver for once.
With support from amazing bands Yonaka and Man with a Mission, the sold out night was off to a great start and the crowd were already hyped waiting for DB to make their appearance.
Performing tracks from all three albums Priorites, Automatic and Technology, old and new fans were able to enjoy the night while the five lads gave 110 per cent into their performance.
Now as a normal fashion journalist, I do have to give their outfits a little mention. From Rob's incredible patterned bomber right up to Si's very short shorts. All the times that I have seen the band live, the one clothing item that my eyes get drawn to first are Simon's shorts (at least he has nice legs, right?) All us fans love them so please never stop wearing them. Who wears short shorts? Si Delaney does!
Opening the show with Pretty, a popular song from the new album, there was no time to waste as the wall of death soon formed half way through the song and it was just insane. A few fans even dressed up as the PrettyBoys from the music video! Dedication or what!?
To date, this has to be one of my favourite set lists that they've had. From heavy guitar riffs to 80s punk synths and the trusty cowbell, it was certain that this was carefully planned and fans were not not left disappointed by it.
Every time that they play Superlove and Automatic live, it gets me so hyped (buzzing/excited for those who may not know what it means) Those songs just make me think of summer and driving with my windows down and Don Broco on full blast.
My favourite tracks of the night? It's hard to choose as there is not one Broco song I don't like but if I had to say my favourites, it would be What Do You Do to Me, Porkies, Fire and Greatness. What could have made the setlist a little better was to add new track ¥in as I know it was played at a few shows but it didn't affect me too much that the track wasn't on the TOON setlist, as they already had some absolute tunes on it.
Old Don Broco fans will be familiar with their first ever song Thug Workout (can this be put on iTunes guys? #HintHint) and soon the Newcastle Pushup Squad was formed. Unfortunately, this journalist can't do pushups so I will never be able to be a part of the squad  *sadface* but the amount of effort that the guys put in to this song was something seriously out of this world.
Ending the night with an encore of their two new tracks Come out to LA and T-Shirt song, was seriously the highlight, as everybody started screaming and then taking their t-shirts off and swung them around their heads, exactly like the lyrics say.
Newcastle Broco fans are absolutely insane as on the way out, I witnessed a small fight over Matt's drumstick! Never ever seen that before, but I guess commitment (or madness) could be a word used for that.
Overall, the lads put on an absolute show stopper, like always. Well done lads, well done *insertclappingemoji*
---
What better news than the guys adding more dates in April!? Well, that's what they've done! Unfortunately though, the nearest venue to the North East is Sheffield, so we guess, we'll see you there (and also Liverpool!)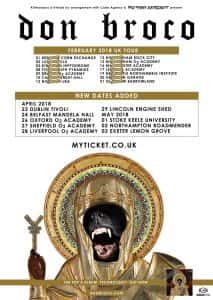 Tickets go on sale this Friday from Ticket Master and you can purchase the new album here