Saxophonist Joe Reeve on his goals, his inspiration and where he hopes to be in five years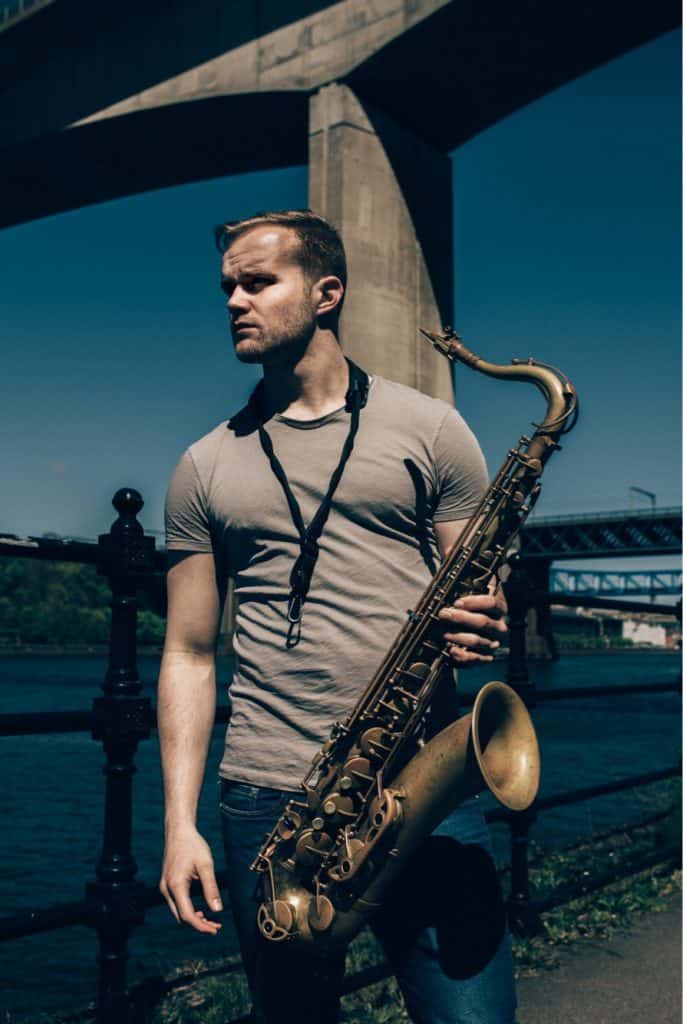 You might recognise Joe Reeve as the enthusiastic saxophonist who regularly performs in Newcastle's top clubs: House of Smith, Madame Koo and Florita's. Speaking to Emily Mertens, he reveals why he began this journey and how he hopes it can eventually take him around the world.
Many musicians have idols. And these idols influence musicians to pick up an instrument. Let's take Brain May, for example. The lead guitarist of Queen idolised Jeff Beck and was inspired by his guitar playing. Similarly, singer-songwriter James Bay began playing guitar after hearing Layla by Eric Clapton, and possibly wouldn't have picked it up if it wasn't for this song. These idols are usually famous musicians. But not for Joe Reeve. Instead, his idol is a cartooned eight-year-old. Yes, he first picked up a saxophone because of the one and only, Lisa Simpson: "When I was younger I used to love The Simpson's" he laughs, "I always used to watch Lisa Simpson playing, especially at the beginning when she would walk out of the class playing it. I really liked that and thought that looks kinda cool."
From the age of six, Joe has had a passion for playing the saxophone, and he doesn't plan on stopping. He speaks with interest and his answers are always quick to leave his mouth. He's a down to earth, normal guy, who is simply devoted to his job. And it's very refreshing to hear.
He explains that Lisa Simpson, as much of a big part in his decision to take up the saxophone, was not the only reason: "The thing that gave me the final push to start playing was a guy who came into my primary school and showed us a lot of different woodwind instruments. I went over to my parents and said I'd really like to play the saxophone and it all started from there."
The 24-year-old has been playing the saxophone for 18 years and has only become 'professional' within the last year. He predominantly plays over house music, with a pre-mix on his laptop or with a live DJ.
But, it was not until the age of 15 that Joe started taking his talent seriously: "From about six to 14 it was just a hobby," he explained, "Then I got a new saxophone teacher when I was about 15 and it just changed things." This new teacher saw potential and urged him to start playing solo gigs, which he did: "After that I really caught the performing bug and playing to an audience. I really liked the feeling of everyone clapping, and I thought yeah, I really like this. So, I took it a lot more seriously."
Joe enjoyed music so much that he moved from his hometown of Ipswich, Suffolk, to Braintree, in Essex, to study music at college. It was here that he was first introduced to house music which influenced his iconic sound today. He then came up to Newcastle University and got a degree in Contemporary and Popular Music and now lives in Gateshead.
Joe does a range of gigs. He performs in clubs, gets hired for events, and does the odd wedding. And there's one wedding in particular that stands out in his memory. It was in the Lake District, he explained, and a majority of the guests were from down south, which was a worry: "I find in Norfolk and Suffolk saxophone with house music is still not quite there yet but once you get towards Essex and London it is." He clarified, "I knew my audience were people from down south, so I didn't know how they were going to take it." But, to his relief, it was a huge success: "As soon as I started playing my set, literally everyone started dancing. It was a really great feeling, especially getting the bride and groom coming up to you afterwards. It's why I do love what I do, I'm very lucky I can call it work. Best feeling in the world really." In fact, Joe once impressed so much at a wedding that the groom said he was the "highlight of his day", to which Joe thought, "he had just got married, maybe I was one of the highlights but not THE highlight. I thought getting married to your wife was probably the highlight of your day", he laughed.
Joe has many goals, one of which he has already completed: "My goal for this year is to get some original material out and start composing original songs, which me and my friend have already done." But the main goal Joe has in his sights is to perform abroad and become a recognisable musician, working with big names such as Calvin Harris: "I want to be able to perform to thousands and thousands of people, big stadiums, and just maybe become a recording artist myself," he says with excitement and enthusiasm.
Joe's unique and recognisable sound is sure to bring him a lot of success. With his whole life and career ahead of him, we're positive that the name Joe Reeve will be one to watch for years to come. And let's hope that one day he can finally re-enact that iconic Lisa Simpson scene that inspired him to start in the first place.