Fans: Yes we are!
Next week an exciting show hits the Live Theatre in Newcastle and at Northern Lights we can't wait for the opening night.
If you have any interest in music or theatre, this is a must-see, unique show with something for everyone. Directed by Melanie Rashbrooke, it features songs from Green Day to Beyonce, as well as some original numbers that are perfectly interwoven into the story of being in a band.
"It's a lot of fun making this show. Everything – the crowd, the energy the buzz – it's an amazing experience", explains Ms Rashbrooke.
We were able to meet Charlie and Andrew, two cast members from the original production two years ago. They play their own namesakes and are joined by Alex, the latest addition to the cast, who plays Megan. They have been working closely to bring it all together and explore the complexities of being in a band – something Andrew already had firsthand experience of.
"When I was sixteen, I played in a band for a while in Slovakia. Looking back on it now I realise just how strict I'd been", he laughed.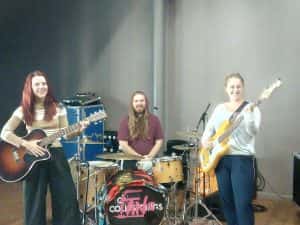 As well as the obvious benefit of Andrew's experience, having a scriptwriter on board has also helped shape the performance and make it much more believable.
"It's been such a great help. I can talk to her and ask her what are the main core elements of what my character is and how they would react in situations, while also giving suggestions and saying 'hey, maybe my character would say it like this' or 'maybe this should be added here'", said Charlie.
We can't wait to see this performance come to life. As this fantastic group take over the stage, it's sure to be a great choice to go see.