The Best of BBC: Clique, Series 2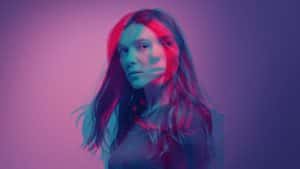 After a hiatus of a year and a half, creator Jess Brittain (Skins) has returned to BBC Three with the second series of smash hit show Clique, which premiered on 10 November.
After the success of series one, the show's return has been highly anticipated by its fans. The series is a dark thriller/drama, tackling issues such as substance abuse, rape, toxic masculinity, corruption, exploitation, feminism, jealousy and murder. Series one follows childhood soulmates Holly and Georgia in their first year of university in Edinburgh.  They become involved with an elite clique of four girls (Fay, Rachel, Phoebe and Louise) led by their lecturer, Jude McDermid.
Holly loses Georgia to the so-called clique, spiralling into suspicion and panic as her best friend's behaviour becomes hostile and erratic. Following her suspicions and desperation to get Georgia back, Holly makes her way into the group, opening herself up to a world of lavish parties, sex, drugs and Edinburgh's richest men and women.
After Fay commits suicide, Holly finds herself exposed to corruption and a world of crime.  She begins an internship where Fay had worked, a company called Solasta Finance, founded by none other than lecturer Jude. Holly's determination to solve the mystery leads her to being in grave danger.
Series two takes on a fresh approach, introducing new faces while simultaneously following a few characters from its first series. Holly, after the traumatic events she experienced a year prior, has returned for her second year of university, on a new degree programme. Holly and a former member of the elite clique, Louise, are living in a house with new roommates, one of which is unusually enthusiastic about befriending Holly.
Holly (Synnove Karlsen), is just as captivating in series two, even more so due to her struggles with PTSD. The show uses flashbacks to season one, where Holly almost lost her life at the hands of her at-the-time boyfriend, to represent her current psyche.
Despite Louise's best efforts, Holly refuses to open up; lacking any genuine friends, and turning down social events whilst maintaining a social media account that gives the illusion of a wonderful life.
After finishing a shift at the bar in which she works, Holly comes across a group of four boys, a band of brothers led by a charismatic and clearly damaged teen named Jack (Leo Suter). Holly develops a strange spark with Jack and finds herself being drawn into his world – which we know will only cause her trouble a second time round.
By the end of the first episode, following a horrendous attack on someone Holly knows, we realise that this charming group could actually be very dangerous, or a part of something much bigger than the four of them.
Clique is a show of mass appeal to teenagers, dealing with gritty topics and keeping audiences hooked with its enigmas.  Series 1 is available to watch on BBC iPlayer, and the first episode of series 2 is available on BBC Three catch-up and also iPlayer.
New episodes of series 2 will air at Saturdays at 10am, only on BBC Three.