Artist Profile – Lil Peep
21st November 2018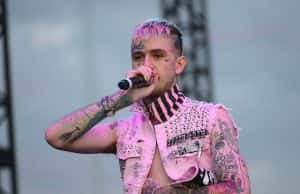 Words by Joshua Pool
Lil Peep's newest album, Come Over When You're Sober, Pt. 2, has reached number 4 on the Billboard 200 in the United States – an astonishing achievement for an artist who sadly passed away a year before the album was released.
The emo-rap and rock artist, born Gustav Ahr, managed to reach the top 20 twice during his short-lived career. His first chart appearance occurred when Come Over When You're Sober, Pt. 1 peaked at #38.
Lil Peep earned his highest-charting single on the Billboard Hot 100 in October 2018 with "Falling Down", featuring XXXTentacion, which peaked at #13.
Gustav was not afraid to be himself, something he made obvious and expressed through his social media platforms, performances, lyrics and clothing.
Also known as Hellboy, he was a frequent user of drugs, due to his mental health issues, which ultimately caused his death on November 15, 2017.
He died from what is believed to have been an accidental fentanyl–xanax overdose.  After his death, Lil Peep's fan base and popularity grew quickly, resulting in a significant increase in sales and streams of his music.
Even though Gustav's life ended extremely prematurely, aged 21, more songs are still on the way, even after the release of this new album.
If you are wanting to try a new artist and get a feel for what the alternate music has to offer, I can't recommend Lil Peep enough, and I'm sure his 3.2 Million Instagram followers would agree.