Review: All is True
19th February 2019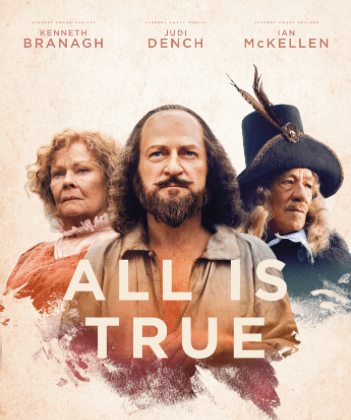 All is True is a new film about the life of William Shakespeare, directed by Kenneth Branagh, who also stars as the famous playwright. Judie Dench and Ian McKellen appear in supporting roles.
The plot centres around Shakespeare's return home to Stratford in 1613; the Globe Theatre has burnt down and The Bard, on hiatus, is forced to confront the family he has neglected in favour of success.
The film, unfortunately, falls into the traps of the usual cliched theories of The Bard's life, such as the death of his son, Hamnet, inspiring him to write Hamlet; in truth, there is no evidence to prove this.
Here, Hamnet makes a ghostly appearance to Shakespeare and his death even reflects that of a character in the play. This continues with the characterisation of Shakespeare's unmarried daughter, Judith, whose waspish manner matches that of Kate in Taming of the Shrew.
It all feels too simplistic and neat to ring true.
The only real highlight of the film is Branagh's performance; he gives us a very ordinary, everyday, regretful side to Shakespeare, something we have not seen before.
Really though, the film should be avoided. It highlights a problem that all such biographical films on Shakespeare face: a considerable amount of guesswork has to be employed as we still don't know much about the great playwright today.