REVIEW: The Walking Dead Season Nine – Episode 16 'The Storm'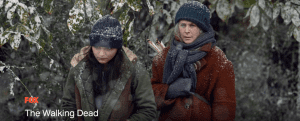 Credit: NowTV
Well, it's been two weeks since the show finished off the ninth season and the dust has now settled on what I believe was – and it pains me to say this – the worst finale of The Walking Dead ever.
The Kingdom has fallen, which I think is the result of the fallout from Henry's (Matthew Lintz) death in episode 15, The Calm Before. As we had seen before earlier on in the season, Henry and King Ezekiel (Khary Paton) have repeatedly tried to repair the wear and tear on The Kingdom's pipework to keep it running, which failed and led to a full-scale evacuation of the community.
Daryl (Norman Reedus) and Lydia (Cassady McClincy) seem to be developing a strange bond, a Father and Daughter-like bond, seemingly turning into the new Rick Grimes (Andrew Lincoln) and Carl Grimes (Chandler Riggs) of the show. This is shown as he protects Lydia from insults given by Alden (Callan McAuliffe) when they see walkers – or Whisperers – off in the distance.
I'm very confident to say this season is the very first – in NINE – to actually show snow. The programme normally just skips over the winter season as if it's nothing and we don't get to see much of it, just brief mentions through small, slow parts of the show as a small but nice change of scenery.
Credit: GIPHY
In terms of a Zombie Apocalypse, Lydia attempted to commit suicide in this episode as she almost allows a zombie, stuck in ice, to chomp down on her bare arm before Carol (Melissa McBride) notices. This is later on shown to be most likely down to guilt for the death of her romantic interest (and Carol's adopted son) Henry, feeling like she is the reason he is dead.
I am not going to lie, Negan (Jeffery Dean Morgan) is starting to grow as one of my favourite characters, with his smart-ass comments and funny lines, what's not to love? At the same time, I do love the current character development going on between him and Judith (Cailey Fleming) when she chases after the sound of the dog barking and he goes chasing after, saving both Judith and the dog from potential hypothermia, it's a heartwarming moment. I know my puns.
Credit: GIPHY
To the best of my knowledge, the apocalypse hasn't been too kind on Carol, she lost her first child, Sophia, in season two (in a barn full of walkers) and now she has lost her adopted son, Henry, in this season (to people who dress up as walkers, a bit of a coincidence). I don't know of any other characters who have lost two kids to the cruel world they live in: one maybe, but not two!
I will admit, I liked the little touch that they added into the end of the episode with the paintings of Glenn (Steven Yeun) and Hershel (Late Scott Wilson).  Would he be called Hershel Sr. now? Maggie has a baby, also called Hershel, so will the younger one be called Hershel Jr?  Maybe.
However, let us get started on the shocking, horrible and BAD cliffhanger that AMC left us with for season nine.  The cliffhanger left us with one question to ponder until October: who is the woman on the radio? (it sounds like a woman).
The reason I think it's bad is that it could have been done better. We know Rick is alive, since his disappearance in episode five, so why not tease him into it at the end? Even if they don't bring him back for a few seasons, if at all, at least we could get some comfort knowing that he is out there, ALIVE and not part of a walkers lunch!
Credit: GIPHY
I have said it a few times over the last few weeks, if not months, the show is now dying a slow and painful death.
Since losing key characters like Glenn, Carl and now Rick (one season after another since the seventh season) I feel like it has lost its touch and is trying to revive itself in new ways – such as the introduction to The Whisperers to keep the audience on its toes. Either way, I'll still watch it to the bitter end, even if it means biting my teeth and grinding my way through until then.