Ballad Of The Princess – Leddie MC takes stock of her career to date
6th May 2016

Leddie MC is one the North East's best rappers and producers and one half of Middlesbrough duo L&S.  Fresh from her first gig in 18 months, Mark Tyers talks with Leddie about supporting The Game and Chester P, career lows, getting engaged, her solo EP and L&S's next album.
MT: So how did last Friday go?
L: It went well! To be honest, I think the whole night [hosted by Spark FM's Young Sceptic in Independent] was pretty consistent and I think NNE [ New North East – Sunderland's number one rap act] did a good job headlining. The stand out moment was Tehuti Gold stage diving. It made my night! The atmosphere was really good, it had a positive vibe and everyone seemed to be in good spirits and enjoying the event.
MT: [laughs] Yeah the video of that stage dive is doing the rounds big time on Facebook!  Your set went really well, I think it was Hash Rotten [NE rap promoter] who commented that it was pretty much perfect word-for-word, which is an impressive feat for any MC but particularly for you two considering its been so long since your last gig?
L: Yeah, it has been a long time since we performed live. I am glad it went down well, and we did well not messing up, much! [laughs]. The last gig before that was OxJam in October 2014.
MT: So what have you two been up to in those 18 months then?
L: Well, in those 18 months we've been writing and recording solo material. Smog is yet to release his EP, and we've been making beats for the second album and writing it. I got engaged! Crazy! I've also been focused on getting in better shape and living a little more as opposed to stressing over bars and rhyme schemes as much. I've also travelled a little and I'm currently saving to buy a house with my fiancé , so music kind of took a back seat whilst I learned to juggle everything at once. It's all become easier now, I seem to be a lot more creative lately.
MT: Could you tell me a bit about your 2015 solo EP, Home In My Head, what inspired it?
L: My solo EP is basically a collection of songs I wrote and was produced by Alex Bailey. I usually make my own beats, so writing to someone else's beats was really hard for me because sometimes the sound of the instrumental did not fit with the mood I was in, but we managed to knock out a couple tracks and a spoken word piece for it.
It was inspired by the quote: "The words that you speak become the house that you live" which is what the title track is all about. Along with losing weight, I realised my body is pretty much the only place I have to live, and how I may as well make peace with my mind. The rest of the EP is inspired by different things. Letter To A Listener was inspired by listeners that somehow think I may have changed, without really supporting what I did to begin with. Ballad Of A Princess is a metaphorical track based on medieval times of Kings, Queens, kissing frogs and being crowned in a Monarchy. Circles is inspired by my circle of associates that seems to have gotten smaller over the last few years, to the point that I am pretty much alone. There was meant to be another track on there but we decided to leave it off.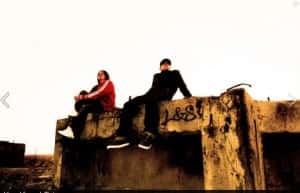 MT: Right at the end of your track Front Row, you and Smoggy mention that you have been performing together since your first ever gig on the 28 March 2006 at Doc Browns. Since then you have experienced some big highs and lows which you talk about in the first L&S album [Sorry We're Late] – could you tell us about a few of them?
L: Doc Browns is a pub in Middlesbrough, our first performance was upstairs in there. The room was meant to hold around 30-40 people but it ended up being absolutely rammed! It was our first gig together in a 6 piece Hip-Hop group called Norf N Lights. We have been through quite a lot in terms of our highs and lows and breaking from the group. We started out as quite a tight knit group. We all went everywhere together and it was basically like having 5 older brothers. A few of us wanted different things, so parted ways without any hostility and they went on to do other things outside of music. A small few became selfish and used the bond we all thought we had to try and play us off against each other. In the end, there was 3 of us, but me and Smog decided we wanted to work as L&S instead of a 3 piece. It did not go down well. It was heartbreaking to think something we had all built was so easy to leave behind, but it was necessary for us to grow and develop.
MT: And you have had some really big highlights as well?
L: Definitely. L&S actually started out because I was asked to support Chester P in Brixton alongside Logic and Lowkey and I asked Smog to come with me, hype my bars and perform a track of his own. From then on we tried to get on stage where ever possible, usually because we were too skint to pay the door fee and knew we would get in for free as a support act, with a few free drinks thrown in!
MT: Did you support The Game [Internationally successful Grammy nominated rapper from Compton] as well?
L: Yeah we supported The Game in Middlesbrough at the TFM Soundworks Venue.
MT: Many of your tracks are autobiographical and one theme which I think really comes across in many of them, particularly All In the Eyes, is that Leddie MC is much more than simply your stage name. Is it fair to say that the whole act of creating music and performing has been both therapeutic and transformative for you?
L: A lot of my songs are [inspired by] personal experiences. Writing verses helps me to understand situations I've been involved in, and put them to rest. I definitely use it as therapy, because I am an over thinker, so working out how I am going to get something across helps me to unravel the situation and look at it from a deeper angle than I would have if I was not writing about it. I used to be a lot more reclusive and I would basically live in my head and torture myself with things that have happened. Now, I have became a lot more understanding and I have grown up and I am able to see things from different perspectives and be able to reason with another way of thinking.
MT: How is the Second L&S album coming on. I have heard it is like two-thirds done? What can people expect from it?
L: It is coming on great! All of the tracks except the intro, and Smog's solo track are pretty much produced. Some need fleshing out a little and rearranging. I have written almost all my verses for the album. Smog has yet to start, which is weird because I am normally the slower writer.
The first album, I followed Smog's lead, but this time it is my turn! It is a lot less political and is a little more concept based. I have learned to simplify my words without dumbing down the music, as using bigger words seemed to aggravate and alienate people from our music. I have basically written my bars how they have fallen out of my head this time and done a lot less procrastinating. People can expect everything to be upped a level.
We have analysed the first album a lot and discussed things we would change if we could and talked about what we both want from the second album. I have developed our beats and I have paid more attention to song structures as opposed to rapping on four bar loops, building up the track and adding to it. The beats for the second album are crazy, and we have definitely upped our level of lyricism.
MT: What advice have you got for aspiring MCs in terms of developing themselves musically, lyrically, their live performances and getting gigs?
L: Never put out something you are not 100% happy with. You could be performing it for years to come. That is my main bit of advice. But as far as lyricism goes, have fun with it and express yourself however you see fit. Words are your weapons so keep them sharp. As for getting gigs, send out online press packs, or have a hub with latest tracks, a few photos and a bit about yourself and contact as many promoters as possible. The worst they can say is no!
Leddie MC's EP, Home In My Head is available to download from her page on Bandcamp.com as is the L&S album; Sorry We're Late.
The next Young Sceptic Presents… Hip-Hop and Grime night is on Friday 3 June, Independent, Sunderland. Doors open at 7.30pm, entry is £5 on the door. HB are headlining.