The Walking Dead – Season 7, Episode 1 Review *spoilers*
25th October 2016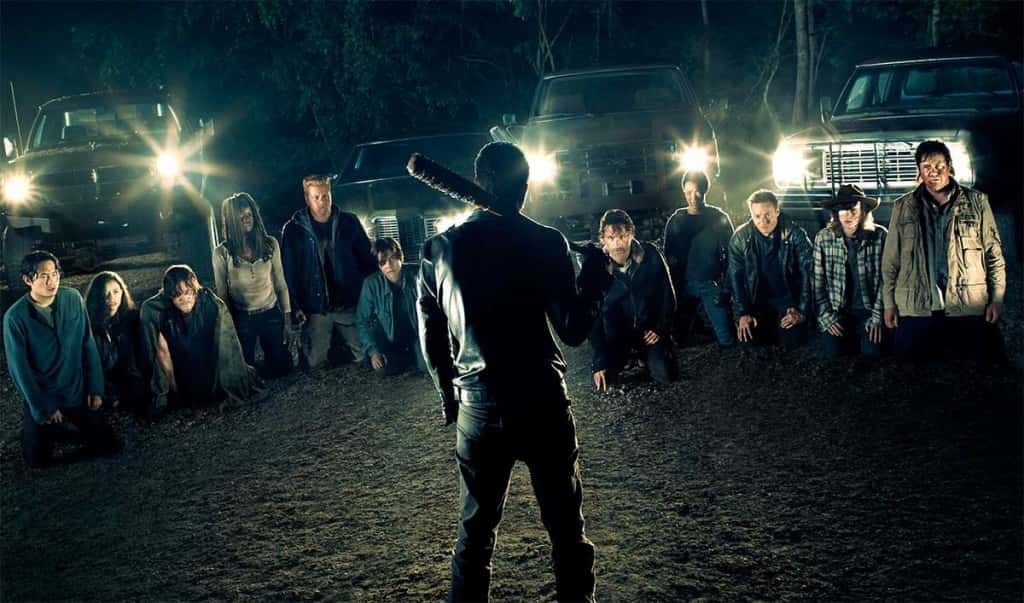 Last April AMC left us with one hell of a cliffhanger. Who did Negan (Jeffrey Dean Morgan) kill? Well, after a year of waiting we finally got our answer in last night's bloody episode.
The episode divided fans on social media.
Stro @Andrew_Strobach
After 4 years of watching The Walking Dead I can officially say this was the goriest and most shocking episode they've ever had.
John Hocevar @JohnHocevar
Goodbye forever @WalkingDead_AMC. That was disgusting. #TheWalkingDead didn't just jump the shark it pulped it.
spooky a @albenitathnberg
OMFG THE WALKING DEAD SEASON 7 EPISODE ONE HAS COME OUT AND IM SO HAPPY
AMC certainly know how to get people talking.
The opening follows Rick (Andrew Lincoln) as rival gang leader Negan abusively taunts him. Recent memories flash before his eyes, as AMC cruelly drag out the cliffhanger for as long as they can.
After what seemed like the longest commercial break ever, the horrifying scene of Abraham's (Michael Cudlitz) death was revealed. Beaten repeatedly over the head by Negan's barbwire covered baseball bat, Lucille.
The scene, however brutal, satisfied a want for answers as well as keeping comic book fans happy (as Abraham's comic book counterpart died long before Negan made an appearance). As a character AMC did all they could with Abraham, all of the interesting story lines had been exploited – taking Eugene (Josh McDermitt) to Washington; the weird love triangle with Rosita (Christian Serratos) and Sasha (Sonequa Martin-Green) – there was no where else for the character to go. His death, like the character was defiant and aggressive. A fitting way to go.
While Abraham's death was an 'anticipated surprise', Glenn's (Steven Yeun) was truly a shock. After having his life toyed with so much over the course of the show, "dying" numerous times. Glenn's luck finally ran out, in what was one of the most disgustingly brilliant, albeit unnecessary, deaths in television history.
Glenn's character had seen a dramatic change since Season One: from the shy, scared pizza delivery boy to one of the group's strongest members, both physically and mentally. Glenn's character personified the transition from civilization to savagery.
His story, unlike Abraham's, had so much more to offer. He was a great group leader, but more than that, his personal struggles with Maggie and their unborn baby added more to the story than guts and gore. This being said, while it was a shame to say goodbye to a beloved character the effect it will have on the group will no doubt fuel story lines in the future, in particular with his wife Maggie (Lauren Cohen).
With strong performances from the entire cast, Lauren Cohen particularly shone through; you could feel her devastation through the screen, only the toughest of the tough didn't shed a tear as she came to terms with her husband's death.
All in all, the show runners succeeded in creating a 45 minute spectacle that satisfied the audiences' want for answers. But, true to form, in the process it brought about new questions: How will Rick's group come back from such a loss? Will Maggie get her revenge? Will Rick stick to his word and kill Negan? One thing's for sure most fans will be hoping for a less traumatic episode next week.