Spellbinding Sleeping Beauty comes to Sunderland Empire
4th November 2016
A panto packed full of comedic jokes, colourful costumes, sensational song and dance and bags of audience participation – Sleeping Beauty is bound to keep you in the festive spirit this Christmas! 
UK Productions, the producers behind Cinderella, Peter Pan, Snow White and the Seven Dwarfs and Aladdin return to the Sunderland Empire this festive season, with performances between 9th – 31st December 2016! 
The spell-binding cast include esteemed 'Coronation Street' actress Vicky Entwistle, striking actress and 'Steps' star Faye Tozer who pair together to duel roles as Carabosse and the Good Fairy. 
Children's TV favourite Andrew Agnew returns to Sunderland following his spectacular panto performance in Snow White and the Seven Dwarfs in 2014, in the role of Silly Billy and also as director of this year's pantomime! 
Amy-Leigh Hickman joins the cast as Princess Briar Rose, she is best known for playing Carmen in the popular CBBC series Tracy Beaker and spin off series The Dumping Ground.
The cast would not be complete without legend of radio, screen and stage Bobby Crush, who will take on the role of Nurse Kelly in this spectacular pantomime!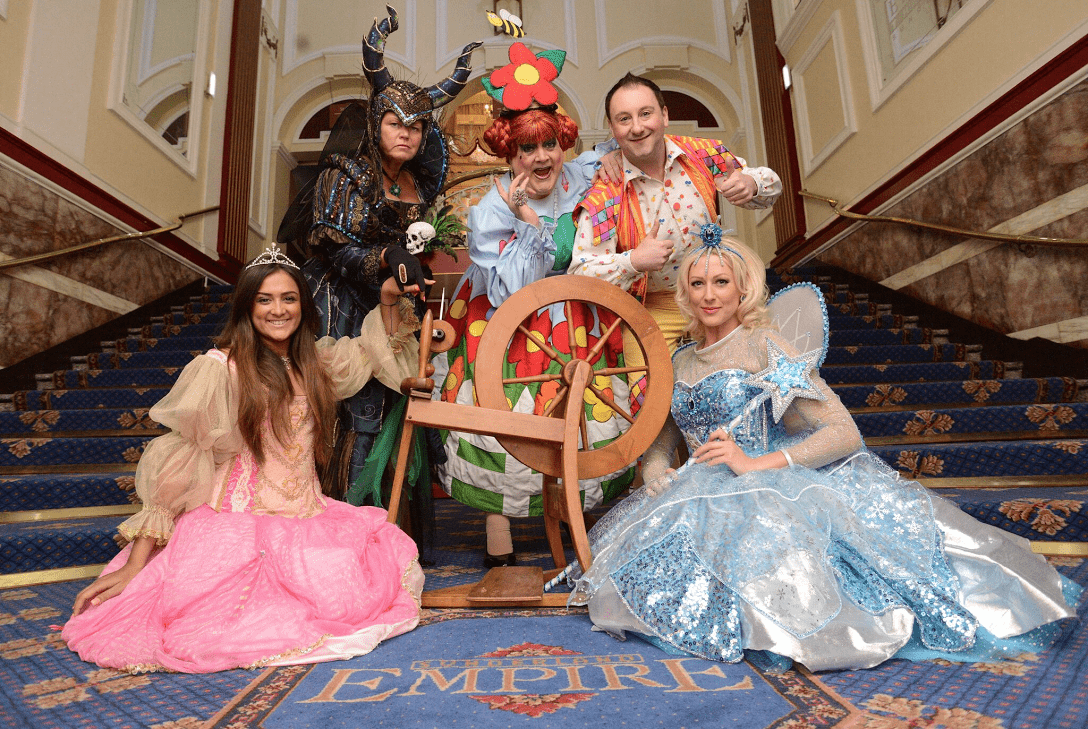 I interviewed the cast members about the pantomime – this is what they had to say!
We all know the classic fairytale storyline of Sleeping Beauty, but what makes this production so special and unique? 
Andrew: Well I wouldn't be in it for a start because my character is not in the traditional story, so I think because we have the additional Silly Billy character, you have the Nurse Kelly character, who is the Nurse and best friend of the Princess, so it takes the story and expands it slightly. Also some people who know of the Disney cartoon. So there can be different kinds of interpretations of who the bad character is, whether its Maleficent or Carabosse. We have a traditional structure, but there are lots of differences that makes it special.
Amy-Leigh: Its got a really, lovely bunch of people in the cast. In theory if you are having a good time on stage, the audience are going to have a great time with you.
Vicky: Its just such a great story and the kids get it, they are with you from the start. They know who the good guys are, who the bad guys are; they really care about Sleeping Beauty and they scream the place down when she pricks her finger. it is just brilliant!
Faye: There is going to be some quirky, and going off-text, off tangents to grip the younger audience!
Will there be any big surprises or wow factors for the audience?
Andrew: We have some great effects happening in the show, great music, new projection that we use! There will be lots of great things that will be new to this audience!
Amy-Leigh: Of course!, lots of exciting things in store!
Vicky: I mean everyone knows the story, but there will be different twists and the costumes will be fabulous, the set looks great. I think people will be pleased.
Faye: Of course there will! We have a budget for some nice bangs, crashes and special effects. But I am pretty excited because I am going to be flying and so are some of the other cast members. We are going to have harnesses and be all over the place, so thats going to be a new skill to learn.
The Sunderland Empire is such an iconic theatre venue, how will you prepare for this performance?
Andrew: I was here two years ago, so this is like coming home for me. You need to keep as fit as you possibly can, as we have two shows a day. Warm ups, looking after my voice are all things we do in preparation. Apart from learn your lines and songs, and don't fall into the pit!!
Amy-Leigh: 
 I guess mentally I am going to read the script, get to know everyone as well, because I think that is such an important factor. If you have a good chemistry, you are going to have a good chemistry on stage.
Vicky: You have got to be in the moment and tell the story! If you start thinking about being on a big stage, then you will get nervous!
Faye: 
Well I have actually worked here a few times before. My last time was a few years ago, I did 'Singing in the Rain'. But this is such a wonderful building, and I think we shouldn't take this for granted. 
 It is a big house out there as well, so its exciting to have a massive audience. But I think we are all professionals, and we are all ready for it.
Without giving anything away, can you reveal if there will be any recognisable songs?
Andrew: Yes we need to have!, there will be lots of current hits. Because there is a certain pop star in our pantomime! I'm sure we will need to have a 'step' in that direction, if you know what I mean! You will not be disappointed, it is going to be upbeat.
Amy-Leigh: Yeah there are going to be some great ones!
Vicky: 
Yeah there has to be really, you have got to 'get down with the kids', and find out what they like and what they can associate with.
Faye: 
Well without giving anything away, thats why they employ me!  There's going to be two points within the show, where there will be a recognisable song or two from me!
What do you think will be your biggest challenge about taking on this role?
Andrew: Well, there's lots of traditional routines that we do. I
t has to be slick, entertaining and funny, and that is a pressure.
Amy-Leigh: Because I am so used to TV, I think its going to be having to bring it to life and make it a lot bigger, because TV and theatre are so different. I think its going to be adjusting to putting it on a stage, instead of trying to make it small and as natural as possible.
Vicky: Its two shows a day, so thats quite demanding. You have got to keep your wits about you really. Physically its hard work.
Faye: Potentially flying and singing at the same time! I think thats going to be something interesting, and a physical challenge. But also I think one of the things people don't realise is, what a graft panto can be. You have to be full on with energy! I need to make sure I eat healthily to make sure I am vocally ready for the performance!
I took my Grandad to see Aladdin here at the Empire last year – we had a fabulous time! What age group is Sleeping Beauty going to appeal to this year?
Andrew: I think people 1-100 can come and see it. It's nice to come and be a big kid sometimes, isn't it? Leave your worries at the door and come in and make sure you join in – you will have the best time, and thats what we want!
Amy-Leigh: Panto is meant to be for children, but I take my younger brothers and sisters and I take them to see a pantomime every year, and they enjoy it just as much as me, and I'm 19. But also my grandparents love a panto, and they are in their 60s. So I think that is the good thing about panto, it does appeal to everyone in the family.
Vicky: There is something in it for everyone. The songs, the music, some of the near the knuckle jokes, the kids won't get but the adults will. So I think there is a bit in there for everyone.
Faye: We need to make sure there is something for everybody. If you notice the cast they that have got for us here. You have someone who is well known on children's BBC, Vicky from the soap Coronation Street, Bobby Crush who is well known from the 80s and I'm obviously known from the 90s.
Can we expect much audience participation?
Andrew: T
hats part of pantomime, isn't it? The audience are another character in the show, they just don't appear in the programme. Its something that we all have to do, thats the tradition of a pantomime! 
Amy-Leigh: 
Definitely. I think thats the good thing about panto, you can't compare it to a show, or the West End, because if you participate in the audience in a play, you are going to get frowned upon! But in a panto you can, because everyone enjoys themselves.
Vicky: 
The more boo's I get, the more it makes me giggle! I love it actually.
Faye: 
Usually its all about booing and hissing, so audience participation is absolutely going to be throughout the whole thing.
Can you give any hints as to how fabulous the costumes may be?
Andrew: 
Our costumes are always very good. It
 will look beautiful. Sleeping Beauty is a pantomime that can be beautiful, it's like a little girl's panto, there's fairies and toys in the play, without giving much away. There's plenty of scope for plenty of costumes.
Amy-Leigh: A lot of pink, which is great because its my favourite colour!
Vicky: I have 
got horns on my head, which is a little bit different to what I would wear around Sunderland on a Sunday afternoon. Yeah, blingy and glamourous!
Faye: We are full on sparkle!, I think they have done a brilliant job with the costumes!
How do you think Sleeping Beauty will get everyone in Sunderland and the North East into the Christmas spirit this year?
Andrew: 
Pantomime brings audiences together! They come and they join in, and that brings a great community feeling! People in town will be saying 'Have you seen the panto in Sunderland?'. 
Word of mouth, that's how you can get schools coming in, who are all excited about coming to the panto. That's what we do it for. 
Amy-Leigh: 
It's going to be really festive! A pantomime is a very British thing, everyone loves to come and see a panto. For most families, its a tick off their list, its like doing your Christmas shopping.
Vicky: It
starts Christmas off, a fairytale to watch. It gets the magic going. I think people will love it.
Faye: Well pantomime is all about Christmas, isn't it? There will be Christmas songs throughout! Loads of promotion out and about when we are celebrating, so the more we can shout about it the better!
Don't miss the chance to see the fabulous, festive pantomime performance of 'Sleeping Beauty' at the Sunderland Empire from 9th – 31st December 2016.
(Photography credit: North News and Pictures.)