Reasons 2016 Didn't Suck!
24th December 2016
Wow, what a year we've had. 2016 has been fraught with political upset and celebrity deaths, but don't let that fool you, 2016 has actually had some pretty dizzying high points too…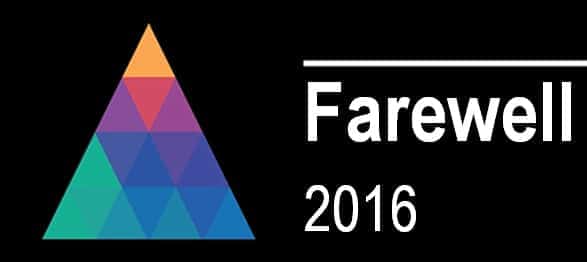 Crash is back!
It was announced during E3 2016 that our childhood favourite Crash Bandicoot is finally getting the
rejuvenation he deserves in the form of the 'N. Sane Trilogy'.
This PS4 exclusive bundle will feature remastered versions of Crash Bandicoot, Crash Bandicoot 2:
Cortex Strikes Back, and Crash Bandicoot: Warped with brand new features and graphics.
Check out our full article
here
for more thoughts, but needless to say this healthy dose of nostalgia
will be well received by both adults and children alike.
Rogue One blew us away!
I think it's fair to say that a lot was riding on the success of Rogue One: A Star Wars Story as the first of many in a list of planned spin-off movies from the Star Wars franchise. Luckily however, it was a huge success both critically and financially, proving that to succeed Star Wars' cinematic universe doesn't need to be limited to its main series of seven (soon to be nine) films.
Visually stunning and crafted with meticulous attention to detail, Rogue One gave us an original and engaging plot which was mature yet entertaining and loyal to its roots.
Here's hoping the future instalments in the series are as successful.
Planet Earth 2 had us on the edge of our seats!
The wonderful David Attenborough returned to our TV screens with the follow up to the hugely successful and entertaining Planet Earth series this year, and what an experience it was.
Proving that nature can be as nail bitingly intense and gripping as any form of fiction, this series showed us once more just how amazing our planet truly is.
And with the effects of climate change and extinctions across the world, this hugely important and informative show couldn't have come soon enough.
Oh and we'd like to give a special shout out to the Iguana from the first episode, we knew you could do it!
Pokémon GO brought the franchise back into the spotlight!
While it has always been, and likely will always be, a huge franchise Pokémon was beginning to fade a little in its popularity here in the UK. But then Pokémon GO came along and suddenly Pokémon was everywhere again.
While it was buggy and at times felt unfinished, this wonderful little mobile game pushed the boundaries of mobile gaming, and the Pokémon video games in general, with a whole new take on the old franchise we know and love.
Read our full analysis on this hugely successful and influential phenomenon here and look forward to the inevitable future updates and incarnations of the game that will surely come.
We finally got The Last Guardian!
After years of waiting we finally got to play The Last Guardian, the third game by Team Ico who are well known for their utterly unique and unforgettable games.
With development on the game beginning as far back as 2007, the project was plagued by delay after delay and it was beginning to look like we'd never get to see the final product.
Thankfully though Team Ico finally pulled though and gave us the stunningly beautiful experience we were waiting for. While not for everyone, The Last Guardian appeals to an audience that appreciates a more artistic approach to video gaming which focuses more on the relationships of the characters and immersive world building as opposed to gameplay. Whether you enjoy this game or not, it sure is good to see Team Ico back in the limelight and still delivering unique experiences.
Westworld knocked every other TV show out of the park!
HBO did it again. The network that brought us The Wire, The Sopranos, Game of Thrones and many more huge shows delivered another fantastic franchise in the form of Westworld.
Based on the 1973 movie of the same title, Michael Crichton's vision is once again brought to screens with its interesting blend of historical western and futuristic sci-fi awesomeness.
Fantastic acting from the likes of acting heavyweight Anthony Hopkins and others mixed with stellar cinematography and storytelling made this show one of the best, if not the best, thing on television this year.
With its interesting characters and a plot full of twists and turns, this show constantly leaves you guessing and we can't wait for the second season!
Click here for a more in-depth look at the series.
The Harry Potter universe was expanded!
Not only did we get a stage show, and accompanying book, telling the long awaited story of our beloved characters from the Harry Potter series, we also got a new feature length film expanding the already fascinating world J.K. Rowling first brought to us all those years ago.
Fantastic Beasts and Where to Find Them features the delightful Eddie Redmayne as a magizoologist travelling to the USA with a briefcase full of weird and wonderful creatures who manage to escape and wreak havoc while a far deeper and more sinister plot unfolds.
Despite the change in location and unfamiliar characters the movie never fails to feel like a Harry Potter film and feels at home in the same fantastical and intriguing world that the series inhabits.
VR became a reality!
While it has existed in different forms for some time, virtual reality only really exploded onto the mainstream market this year.
From the simple genius of Google Cardboard to the more expensive and futuristic PSVR, virtual reality is well and truly here to stay.
Despite some hang ups and limitations with the current technology, the future can only get brighter for virtual reality as it becomes more refined and accepted in our increasingly tech heavy world and the potential it bring with it is staggering.
Chewbacca mom reminded us to smile!
Of all the bizarre things that went viral in 2016, this was perhaps one of the more heart warming and innocent additions.
What began simply with a woman buying, and finding inexplicable joy in, a Chewbacca mask soon spiralled into a viral phenomenon with the woman being given talk show appearances, a free trip to Disney World and even her own action figure. While she later received criticism for charging excessively for autographs, this story as a whole is one we could all learn from.
This short video shows us that, despite the darkness 2016 brought, infectious and unashamed joy can always be found in the simplest of places.