Swine Tax headline Little Buildings- interview
9th October 2017
On the October7, Swine Tax, a 'noisy, artsy Indie rock band', along with three incredible supporting acts, Primitive Painters, Blushes and WWCP, hit Little Buildings- a fully licensed rehearsal space that also hosts live music. Located in Byker down near the quayside, it's filled up to the ceiling with fairy-lights along with posters covering the walls, it's the perfect venue for the debut of Swine Tax's new single 'Feels l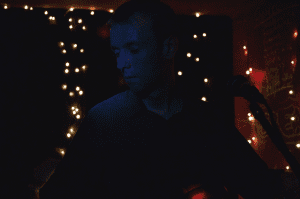 ike'. The band have said that this new single is the closest they've gotten to their aim of being unpredictable and mesmerising while performing live and are incredibly happy with the responses they're getting. The song, has been said to try capture the raw emotions of a blooming relationship, full of angst and desire.
All three support bands were superb, from band to band there was no fault, except for a loose base drum that kept trying to elude the drummer. After the gig, we spoke to the headliners-Swine Tax, made up of Vince- the lead singer and guitarist, Tom the bass guitarist and Charlie- the drummer. With the discussion, they delved into their experiences growing as a band.  After seeing the band perform back in April as a support act for The Orielles, they were still fairly new to it all. Since then, having improved a lot we wanted to see how they felt about headlining rather than supporting. "It's mildly terrifying to be honest, it's fun though" Tom reported. "Aroused" was Vince's response and we can only imagine what he meant by that.
Having now played a few gigs, we wanted to know what their favourite one has been so far. This one question gained a number of responses. "It would have been when we played with Dead Naked Hippies, it was at Tyne Bar and was insane!" from Tom, to "The one where people actually showed up, an audience is a beautiful thing" from Vince. We followed this up and found that it was in fact the last time they had played at Little Buildings and sold out!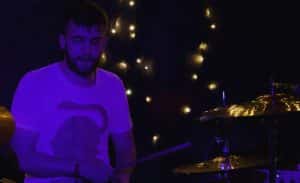 From an array of pieces to pick from, the wonder of how they select their setlist came to mind.  "I'd say it's very much an on the day type of thing, Vince decides just before we go on really." replied Tom. "Whatever Vince says really, depends what equipment he's gone and forgotten." Charlie said jokingly. It's clear that Vince decides just before they play, but he also added that "We always play Brittle last as it's the most popular", so if you ever go along to one of their gigs, you know when to expect it!
Since we've had a few cheeky responses we thought it best to ask what they would stereotype each other as.  Quick to respond, Charlie said "Tom would definitely be Ned Schenibelly. Like 100%, there's no doubt" this was then sharply agreed by Vince. Charlie was described to be the ladies man and Vince the mother hen of the group with a bit of diva thrown in.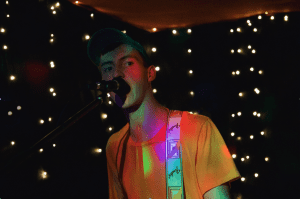 Trying to discover more about the band members themselves, and any dreams they may have once had. With Charlie adding first "To be in a proper band" it set the mood for the rest of the answers and whether he was joking or not we'll never know. "They're long crushed, I try not to think about it" we got from Tom, kind of sad but again, who knows if he's joking. And finally, a proper answer from Vince got him glares from his bandmates, "To manipulate and oppress two washed up musicians in the process of making art". Interesting answers guys.
So what's next in their music career? On Tuesday 10 October 2017, Swine Tax will be at The Cluny supporting Jeffery Lewis, originally from New York and also known for being a comic book artist, it's guaranteed to be a wild night full of good vibes. This will be followed by them returning to Little Buildings as the headlining act for the Oxjam fest on Saturday 21 October 2017, along with some great up-and-coming bands including Twist Helix, You Are The Dead, B-Type and many more! So if you fancy a good dance and a laugh, head on down!