LIVE REVIEW: NeckDeep at 02 Academy Newcastle
9th October 2017
Kicking off the second night of their The Peace and The Panic tour in Newcastle on Saturday night, NeckDeep certainly gave a night to remember to the 2000 strong crowd at the O2 Academy.
The five piece Welsh pop-punk band are embarking on a nine night tour around the UK performing tracks such as Kali Ma, Gold Steps and Heavy Lies from all three albums.
Having last seen them at Slam Dunk North back in May, where they put on an incredible performance. My expectations were already high for the gig, and they definately delivered.
Starting with the first track on TPATP album Happy Judgement Day, Ben, Fil, Dani, Matt and Sam stood behind a large white screen and as soon as the beat dropped, so did the curtain. Everybody went wild.
With the audience now highly warmed up and mosh pits were forming for the start of Don't Wait, a new song which features Architects Sam Carter on and one of their most popular tracks form the new album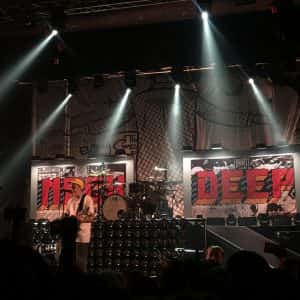 Slowing things down a bit, while the rest of the group went off stage, lead singer Ben Barlow stayed on to perform an acoustic version of Head to the Ground, which he dedicated to his girlfriend, followed by a heart wrenching song accompanied by the bands bassist Fil, dedicated to their late fathers. The Academy lit by just the flash of the crowds mobiles as the crowd sung in harmony and there were quiet a lot of tears … coming from myself.
Keeping the atmosphere relaxed by closing with an old song A Part of Me, this was the first time that they had ever performed this old track live from their 2012 Rain in July album.
Everybody soon chanted for more and within seconds the band jumped on stage for an encore. Performing one of their biggest tracks Can't Kick Up The Roots before ending with a more recent track Where Do We Go When We Go while a shower of confetti masking the crowd and ending this one big party.
However, it did not end there. Blasting No Limit by 2 Unlimited and smoke jets on full blast, a massive rave started with the band going just as crazy on the stage as the crowd on the floor were.
The official afterparty which was hosted by RISE at Greys Club it was the perfect high to end on.
NeckDeep put on an incredible performance and I highly await their return to Newcastle.
Check out our video highlights below!