TV REVIEW: The Vietnam War
19th October 2017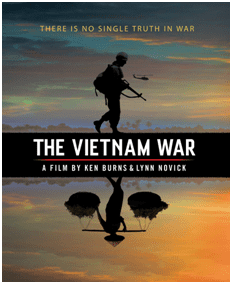 Documentary Series
Directors: Ken Burns & Lynn Novick
Written by: Geoffrey C Ward
Soundtrack: Trent Razor & Atticus Ross
Narration: Peter Coyote
Episodes: 10
BBC 4: Mondays, 10-12pm; BBC iPlayer
The story of The Vietnam War, told in ten episodes, by the master documentary-maker Ken Burns.
After American involvement in Vietnam officially ended in 1975, the conflict would appear time and again as a mystical spectre in popular culture. Whether in cult TV 80s shows such as The A-Team, Magnum PI or Quantum Leap, in classic films such as The Deer Hunter, Apocalypse Now or Full Metal Jacket, or even in gentler fare like The Simpsons or Forrest Gump, the traumatising experience of the war was everywhere. I, myself, grew up with the vague sense that Vietnam was somehow a byword with tragedy and the folly of war; I never really understood why the United States couldn't win, why they couldn't get out or even why their troops were there in the first place.  My childhood curiosity has finally been satisfied in this excellent, utterly harrowing documentary, currently showing on BBC4 and repeating on iPlayer.  For anyone with a curiosity similar to my own, the series is certainly worth a closer look. Currently showing in pairs of episodes on Monday nights from 10pm, 'The Vietnam War' has recently screened its seventh and eighth entries, 'Chasing Ghosts' and 'A Sea of Fire'.
For those already familiar with the work of the director, Ken Burns, the great hallmarks of his craft will quickly become evident: his distinctive blend of words, images and music to tell the story; the unhurried way the breadth of the topic is explored; the much imitated 'Ken Burns effect' of stark, vulnerable human narrative and wandering camera zooms and pans over a particularly striking still image.  This effect, first gaining wide attention in his landmark series 'The Civil War' (often cited as the greatest documentary ever made), has also been augmented here by archival news footage and the actual audio recordings of succeeding presidents (Kennedy, Johnson and Nixon) privately discussing the hopelessness of the war with aides, even as they agree to escalate the conflict.
Another Ken Burns hallmark on display is the balance of narrative and the search for the humanity of all sides: US Marines, North Vietnamese, South Vietnamese, Anti-war Protestors and Draft Dodgers are all represented in this documentary. Each are afforded the time, clarity and dignity to discuss their experiences and, as viewers, we are perhaps quicker to empathise than to judge. The series narrator, Peter Coyote, delivers the facts, figures and opposing truths of those caught up in the war in a frank, patient, and at times achingly sad manner. The combined effect of it all feels like a ten hour rollercoaster of rejoicing and despairing for mankind.
One particularly effective moment comes as a veteran recalls watching anti-war riots during the 1968 Democratic National Convention (in Chicago) from his station in Vietnam. His voice-over is accompanied by archival footage of police clashing with protestors, with the early strains of Buffalo Springfield's classic song 'For What It's Worth' beginning in the background. As he neatly sums it up ('While we were hunting some ghost in the jungle, I saw someone who looked like my dad hitting someone who looked like me. Whose side was I supposed to be on?!') the camera cuts back to his deeply emotive face as he struggles, almost fifty years later, to comprehend the situation; 'For What It's Worth', meanwhile, delivers its memorable chorus, further adding to the impact of the sequence.
This is one of many examples of the effective use of source music from a particularly prolific time in popular culture. Indeed, the soundtrack, compiled and composed by Nine Inch Nails members Trent Razor and Atticus Ross, feels like a miracle in copyright clearance, featuring everyone from The Beatles, The Rolling Stones and Led Zeppelin, through Bob Dylan, Simon & Garfunkel and Joni Mitchell, to Otis Redding, Sam Cooke and Miles Davis. Each track seems to have its own carefully chosen place in the narrative, creating a contemporary mood to the events on screen and helping to plunge the viewer into the maelstrom of troubles at home and abroad.
The consequence of feeling so deeply-immersed in the conflict means the series certainly doesn't make for comfortable, light, easy viewing: if you really don't like being moved to tears by heavy, hard-hitting documentaries, then it's probably advisable to stay clear of this one. However, for those who dare to watch, it will provide an incredible insight into an era which still reverberates in our culture today.