Review: The Fratellis – 30/3/18
3rd April 2018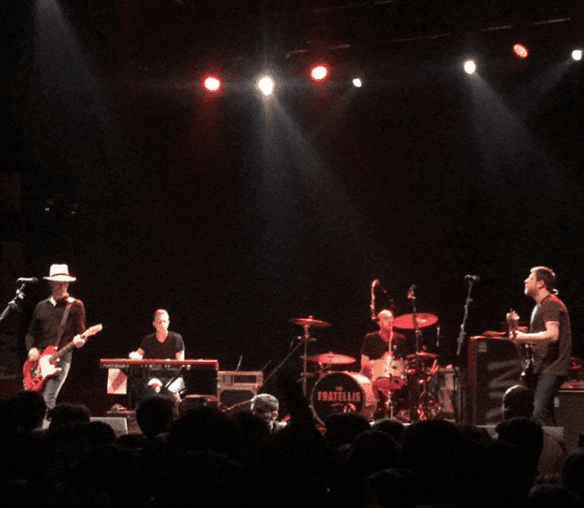 A blast from the past had fans bouncing as iconic Scottish band The Fratellis took to the 02 Academy stage on March 30 with their old smash hits and new tracks from their latest album. 
Opening the show with the iconic 2006 single Henrietta, Jon, Barry and Mince Fratelli had everyone singing along as they began their North East show of their UK tour. From the teenagers who recognise the band from their chart toppers, to the dedicated fans that have followed them since their debut album in 2006, everyone was ready to hear The Fratellis after the impressive opening act Black Pistol Fire.
The room was packed with rock fanatics and the faint smell of body odour as the crowd moshed away to each song. The tour dedicated to the band's new album 'In Your Own Sweet Time' proves that it's all about music with a simple stage set up consisting of basic stage lighting and the brothers with no flashy props; just their instruments and, of course, Jon's iconic hat.
The atmosphere may not have been as lively if they chose to avoid their older, more popular songs as the crowd seemed to quieten and take to social media when the Fratellis played tracks from the latest album. In comparison, when they performed songs from 'Costello Music' like Baby Fratelli, Everybody Knows You Cried Last Night and Ole' Black 'n' Blue Eyes, the crowd pulled out their phones and Snapchatted the classic songs that they are familiar with.
The Fratellis impressed with professionalism with the lack of intermissions in the middle of the gig, meaning the audience can attend the bar or toilet during a song they didn't recognise, that's if they can make it past the attempts of creating mosh pits that consist of groups of teenagers pushing one another to create a pit.
Once the band finished up and left the stage, the crowd cried for an encore, which was no surprise as the trio were yet to play their most iconic song Chelsea Dagger. Once returning, everyone readied their phones and ensured they had enough room to jump around as the band begun to play the tune that has received more than 28 million views on YouTube. The sound of the drums and guitar echoed around the room, shortly followed by the chanting of the crowd and the howl of Jon Fratelli before continuing into the song. It was definitely a performance to remember, seeing the original band play one of the biggest songs in history.
The Fratellis finished their UK tour with a sell-out show in Glasgow before heading to North America to continue promoting In Your Own Sweet Time, which is available to buy now.