Dirty John gets UK release rate on Netlfix: Preview
4th February 2019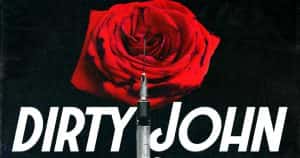 Dirty John is a true crime podcast hosted by journalist Christopher Goffard, and created by the Los Angeles Times and Wondery.
Released in 2017, the podcast is an in-depth insight into the life of con artist and sociopath, "Dirty" John Meehan. The podcast has six parts, each with a duration of around forty-five minutes. The series follows John from his childhood and teenage years, covering every moment leading up to the events surrounding his last victim of exploitation, Debra Newell.
The podcast has been adapted into a TV show of the same title, and the full eight episodes are due to arrive on Netflix this Valentine's Day. The spectacular actors Connie Britton (American Horror Story: Murder House) and Eric Bana (The Time Traveler's Wife) play the main roles: Britton as Debra Newell and Bana as John Meehan.
The TV show is incredibly loyal to the podcast, focusing on a successful interior designer (Debra) in her late 50's living in Southern California. Debra is a self-made businesswoman with a wonderful life, yet longs to find love after four failed marriages. Seeking love online, Debra meets a self-proclaimed anaesthesiologist and family man with two beautiful daughters, John Meehan.
From the first episode, we see the chemistry and connection (kudos to Britton and Bana) between the two on their first date, and Debra is sucked into a whirlwind of charm. Over dinner, John tells Debra that he is a freelance anaesthesiologist, who has recently returned from Iraq where he was working for Doctors Without Borders.
John and Debra make their way back to her penthouse, where John assumes they are going to sleep together and jumps on her bed. Shocked at John's presumption and lack of boundaries, Debra asks him to leave. Upset at how things ended, Debra tries to make peace with the possibility of not seeing him again, but feels disappointed because she felt a connection.
John rings Debra and asks for forgiveness, his charm getting him another chance and second date. Halfway through episode 1, Debra buys a stunning sea-view house on Balboa Island, Newport Beach, paying a year's worth of rent upfront. John moves into this house with her, and at John's pleading, the two marry in Las Vegas.
Debra's daughters, Veronica (Juno Temple) and Terra (Julia Garner) both have an uncomfortable meeting with John and are convinced from the get-go that he has bad intentions. Hiring a personal investigator, Veronica tries to prove to her Mom that John's stories don't add up and that he could be a conman after her money. By episode two, Debra starts to question who it is she really married.
Each episode is gripping and if you haven't listened to the podcast, the show makes you desperate to find out who John Meehan really is, and what he really has in store for Debra and her family. The show takes audiences through John's childhood in California, being dragged up by a fraudulent father who is affiliated with the Mafia, then takes us through his teenage years in Ohio, where he was in Law School.
We get a full rounded backstory of John and also Debra, and the structure of the show ensures both points of view are represented. The acting cannot be faulted; Connie Britton has obviously studied Debra in detail, embodying her soft California accent as well as her timid nature. Britton is able to persuade the audience to be frustrated with Debra, whilst simultaneously feeling empathy for her.
Eric Bana is incredibly diverse and believable as John. He manages to make him very mesmerising, but shines most when he shows just how terrifying the man really was.
The scene-stealer and star of the show for me was that of Juno Temple as Veronica. Her no-nonsense approach to life, her rivalry with John and her tough exterior as she attempts to protect her family are interesting to watch. This rich-mean-girl style role is unlike anything I have seen in Temple's career before and it pays off.
In today's society, relationships have evolved and partnerships are so diverse. With the focus of the show and podcast being on online dating, Dirty John provides the audience with a cautionary tale of its dangers.
I would recommend both the podcast and the show to audiences as they are equally as intriguing. The cast give great performances, the story is relevant and will be very appealing to those who enjoy the genre of true crime and thriller.