Review: The Wife
5th February 2019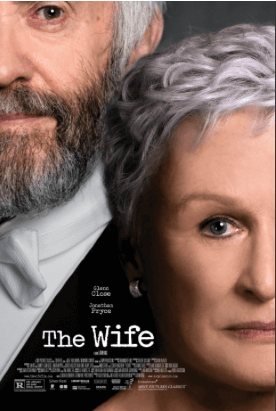 One of the most prolific actors in Hollywood, Glenn Close has begun her seventh Oscars campaign, having failed to bring home the illustrious prize six previous times. Is this as close as Close will get to an Academy Award? Probably, especially since The Wife on the whole is just okay. 
The film follows a similar structure to every other independent drama movie as a character study of a writer's long-suffering wife and the breakdown of their marriage over the course of a few days in Stockholm.  
Jonathan Pryce stars alongside Close as Joe Castleman, his best performance since his villainous turn in Tomorrow Never Dies. Close and Pryce have some superb chemistry with one another, it's no surprise the movie works as well as it does, especially since the two have such a powerful on-screen presence together.
Alongside Pryce and Close are Christian Slater and Max Irons, both of which are well suited to their roles. They don't make much of an impression throughout, but they do manage to bolster the performances of the leading cast members.  
They're rarely away from one another, which means the entire film can focus on the crumbling relationship between the two. As expected, there are flashback sequences to when their relationship first blossomed, typical of a romantic drama such as The Wife. We see the ups and downs of their marriage, the trials and tribulations, the dark underbelly of hidden affairs and quiet resentment. It's very well written, which begs the question as to why it wasn't nominated for Best Original Screenplay. 
Although it has prominence in writing and performances, the film struggles to provide any interest in its direction and cinematography. Director Bjorn Runge offers up his first feature length English language movie, and what is noticeable right away is that he needs to establish himself more. It doesn't feel like he has a unique style or voice, especially not in The Wife. At least his direction doesn't distract from the plot, but at the same time there's nothing of merit: his direction lacks substance. 
The Wife is an interesting story, one that, surprisingly, hasn't been produced quite like this before. Of course, it has the overbearing clichés that a husband and wife relationship will bring, but it also provides the audience with a flair of originality in regard to its writing.
This flair of originality is sometimes lost, though, and we can't help but feel that this is due to the absence of a unique directing voice.