Review: Crazy Rich Asians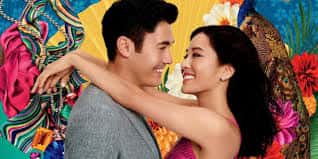 From the director that brought you Step Up 3D, both Justin Bieber movies and Jem and the Holograms comes one of the most heartfelt and more importantly, fun romantic comedies I've ever seen. I've only ever mildly enjoyed one of director Jon M. Chu's previous films, Now You See Me 2, and even then I didn't think it was that good, so I don't think you can blame me for not really having high expectations for this film. But gosh, did this blow me out of the water and make me desperately want to read the book it's based on.
Crazy Rich Asians is about American Professor Rachel Chu's experiences with Nick, her boyfriend, and his large eclectic and overbearing family. It's a fairly standard concept for a rom-com, but the fact of the matter is that this film does it so much better. It's not a vapid, overcrowded film like many others of the same ilk are. Anyway, it's about Rachel's struggles with getting Nick's family to actually accept her, as they simply think she's not good enough for him – all of Nick's family are incredibly rich and powerful members of a social elite in Singapore.
The cast are all people I've never seen before, with the exception of the wonderful as ever Ken Jeong. Constance Wu stars as Rachel, one of our two lead characters. And for somebody I've never seen act before, she instantly comes across as absolutely wonderfully fun and refreshingly enjoyable. It's not often I see a romantic comedy of this type that is just so unapologetically fun. Henry Golding stars as Nick, and he's so absolutely charming. Together, the lead actors have incredible chemistry, the likes of which you just don't usually get in the modern romantic comedy. It's also refreshing to see a romantic comedy travel to an often ignored place in these films, Singapore, and having the cast be predominately Asian is a wonderful touch.
My issues with Crazy Rich Asians are small, and mostly personal, such as how it represents capitalism as being the finish line. However, it also suffers from pacing issues during the final act and an ending that is seemingly only there to set up a future sequel. Neither of these are issues enough for me to completely denounce the film however, it's still one of the most solid romantic comedies I've ever seen.
As previously stated, Crazy Rich Asians is a fun rollercoaster, with few flaws. The jokes consistently land and the characters are absolutely brilliant. Definitely check this one out.
Oh, and the ending is the single most satisfying ending in a romantic comedy ever.