Kiefer Sutherland joins kd lang at SummerTyne Americana
15th April 2019
Kiefer Sutherland is to headline this year's SummerTyne Americana Festival at Sage Gateshead in July.
The Hollywood superstar turned singer-songwriter released his debut album in 2016. His second album, Reckless & Me, comes out at the end of the month and has country music at its heart, taking influence from Americana, folk, rock, blues and more.
Sutherland is famous for portraying Jack Bauer in hit TV series 24 and most recently the hit series Designated Survivor. Among the iconic films he has starred in are The Lost Boys, A Few Good Men, Stand by Me and Flatliners.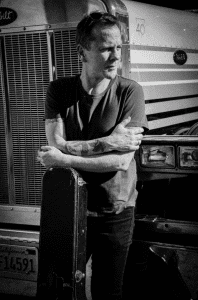 SummerTyne runs from Friday 19 to Sunday 21 July and is in its 14th year. k.d.lang has already been announced as the headline opening act for the Friday. Strictly Country featuring The Wandering Hearts, Lauren Alaina, Eve Selis and Catherine McGrath will headline the Saturday night. Kiefer will close the weekend on Sunday night with Americana rocker Jesse Dayton as special guest opener.
The opening night will see a return to action for Americana legends The Long Ryders, who have recently released their first album in over 30 years, rising pedal steel star, Roosevelt 'The Dr' Collier and blues legend Alvin Youngblood Hart.
Saturday will welcome Kentucky old-time newcomers The Local Honeys, alongside Oregon songwriter Rachel Harrington. Strictly Country's Wandering Hearts are at the forefront of the new British Americana scene and blew the SummerTyne freestage crowds away last year. This year heading up Strictly Country in the main hall, they will be joined by American Idol star Lauren Alaina, whose first album was hailed by critics; the Queen of roadhouse rock Eve Selis; and Northern Irish singer-songwriter Catherine McGrath, who is fast becoming one of the biggest stars in the UK country scene.
Also on Saturday night will be An Evening with The Cowboy Junkies. The alt-country rock legends were formed in Canada by siblings Michael, Margo and Peter Timmins and lifelong friend Alan Anton over 30 years ago. And making a welcome return to SummerTyne is Queen of Cajun music, accordionist Sarah Savoy alongside rockabilly favourites The John Lewis Trio.
Over in Sage Two on the Sunday night we welcome back New Zealand singer-songwriter Marlon Williams, recently seen alongside Bradley Cooper in Oscar-winning film A Star is Born.
SummerTyne Americana Festival attracts visitors from across the world for a celebration of Americana music in and around the spectacular setting of Sage Gateshead, on the south bank of the river Tyne. SummerTyne is a must for all music fans, bringing together established and new artists from America the UK and beyond. With two popular FREE stages outdoors and indoors (on from 12pm each day), music-filled River Cruises, films, family activity and a food village all make-up the festival weekend.
Tamsin Austin, Director of Performance Programme at Sage Gateshead said: "We're really proud that SummerTyne is such a long-established festival in the Country/Americana music calendar and this is why we continue to attract serious heavyweights such as k.d.Lang and The Long Ryders as well as a whole new generation of rising stars like Roosevelt Collier and the Wandering Hearts.
"This year is a real mix of music from the very roots of Americana to the new wave of popular artists who are at the forefront of the ever-growing UK country scene. Kiefer Sutherland, Marlon Williams and Jesse Dayton all have great Americana chops but also bring strong links to film with them and a curiosity factor! And as ever we will deliver our two popular free stages outdoors and indoors showcasing the next generation of new talent.
"Americana and Country music has such wide appeal, for aficionados of blues and roots to those who have discovered country music more recently through Spotify and who have fallen in love with its energy and feelgood, sing-a-long vibe! SummerTyne Americana is a great way to kick back and kick start the summer holidays with a buzzy jam-packed weekend of music!"
Tickets go on sale to the general public on Friday (12 April). There are special early bird and multi-buy offers. Visit http://www.summertyne.co.uk or call Ticket Office on 0191 443 4661.