Interview: Spark FM's Young Sceptic
20th May 2016

Young Sceptic (aka Rob Leatham) has been running The Hip-Hop Show on Spark FM since 2014 and has also started to host a monthly live rap night at Sunderland's Independent music-venue. In this interview with Mark Tyers he talks about meeting Tim Westwood and some of his other music idols, life with Dyslexia and some of the good that Grime and Hip-Hop brings to the world.
MT: Most local music fans will know you from the Spark 107 FM Monday night hip-hop show [9-11pm] – how's that going?
YS: Spark's going really well, we are loving the local MCs who are coming in every week with amazing tracks and there's never been a better time to be on a Hip-hop show, the Grime scene is currently massive.
MT: To the meet the demand, you and some friends have also launched the Spark FM Grime show – why should people tune into that on a Monday night [11pm]?
YS: The Grime Show is brilliant. The lads who do that show have a passion and a good knowledge of the subject and they put so much effort into the content. People should tune in on a Monday because its every Hip-hop heads dream; start the evening with some urban [The Urban Show, 7pm], Hip-hop and then Grime, who needs more!
MT: How did you get into being a Spark FM radio DJ? And is Tim Westwood or Charlie Sloth an influence at all?
YS: I auditioned a few years back. I did a UK Hip-hop demo and they liked it and put me onto the Spark Introducing Show. Within four weeks they said I could do the Hip-Hop show, I was chuffed! Tim Westwood is my idol, I got the opportunity to meet him last year and interviewed him for Spark. I once said in a class at my secondary school; if I meet Tim Westwood I'm done with Hip-Hop, cos it doesnt get any bigger than that, but meeting him has made me more motivated to go further.
MT: That's a great story – what was he like and what other hip-hop idols are on your "would love to meet them" list?
YS: He was really good to be honest and really down to earth. They say never meet your idols in case they aren't like what you think they are going to be, but he was brilliant! I've been really lucky at Spark and I've spoken to the majority of the people that I've always wanted to talk to; Professor Green, Ghetts, Dappy, Ace Hood, Lunar C and Genesis Elijah, but to complete the list; Giggs, Dizzee Rascal and Wretch 32 would be nice.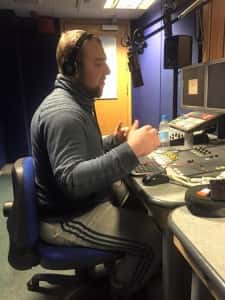 MT: Last autumn you began using your skills in the live arena with the monthly Young Sceptic Presents night at Independent and have so far hosted 3 of them. How are you finding that? And what should people look out for on the 3 June night?
YS: I think its a great opportunity for the local scene and myself but there's a lot of work gone into that from the likes of Mark Tyers, Lee Hawthorn and Hash Rotten Hippo. I'm just privileged to be a part of it and to see Young Sceptic Presents on posters and flyers is incredible. For me though the artists are what it's about and seeing MC's getting the opportunity to perform is creating a united scene which will give us all more chance of progression. June the 3rd proves how much we've progressed, we have acts from all over; York, Ashington, Sunderland it's class to see us all together.
MT: The Young Sceptic Presents nights apart from being a lot of fun also provide a rare opportunity for local MCs to develop their stage-craft and live act – have there be any acts whose performances and approach have stood out for you?
YS: Yes loads of acts have been amazing and have inspired me to go home and write new material. NNE [Sunderland's New North East] are incredible, 90Bro is unreal and he has an incredible knowledge of Hip-hop, but what I love about him the most is if you've got time for Hip-hop, he's got time for you and he will share his knowledge. Reali-T's [single] Got That…. he's knows I've told him so many times I love that track and the likes of Tuckage and Raza are really good. I also love The Great and The Magnificent who are such nice lads, Leddie and Smoggy, Absorb, I could go on and on!
MT: Your a rapper yourself and many people who have tuned into your show or turned up to your nights have had the pleasure of listening to a performance of Dyslexic Commandments and some of your other songs.  Could you talk a bit about the inspiration behind that song and also what topics and themes you like rapping about in general?
YS: Basically I'm dyslexic and I'm not very competent in reading or writing, but I am doing a degree and am still rapping and the inspiration behind that track was just to say in a tongue-in-cheek way; don't let it stop you, you can still succeed.  I'm not a "gangsta" and I never pretend to be. I'm a lad from Yorkshire. I just write about things that are true to me and things I'm passionate about, like inspiring the youth and talking about the North. I just enjoy rapping and like to have a joke about myself in my lyrics when I can.
MT: I think it's massively inspiring that yourself and other people with disabilities and learning are achieving great things like running a radio show, getting degrees, getting jobs. Is trying to make the world a better place one of the reasons why your involved in hip-hip and grime?
YS: Hip-hop and Grime has a tarnished reputation and I just want to say we can use [Hip-Hop and Grime] to our advantage for good things. It's been a brilliant help with my degree and my course, they let me do a rap for one of my modules as a reflective tool and why not teach rap to kids to help with poetry skills? If rap's accepted and used properly so much could be achieved. As for the dyslexia its not a problem, the support you can get is really good for it and anything is possible including rapping.
MT: Why aren't there more female MCs?  Is there anything we can do to encourage their participation?
YS: It's one of those questions that's tough to answer.  I just think when we were growing up there were load's of male role models to look up to; Wiley, Dizzee, Lethal B and Sway to name a few and unless you were following the underground scene, there was only really Lady Sovereign to look up to.  I think this will change for the future generation with the likes of Lady Leshurr and Lizzo coming through.  The more female role models that come through the more female MCs I think we will see and I can't wait to hear more from them in the future.
MT: Thanks for your time, is there anything else you wanted to say?
YS: I just would like to say thanks to everyone for allowing me to come from York and be a part of the north east scene and I think it won't be long before we see the likes of HB [H-Man and Just B] making Hip-Hop headlines, its been an incredible few years and I'm sure there's more to come.
Tune into Spark 107 FM every Monday 9-11pm for The Hip-Hop Show. https://www.facebook.com/YoungScepticsHipHopShow/
Young Sceptic Presents… HB [H-man and Just B], Gang:Greenz, Kay Greyson on Friday 3 June, 7.30pm, Independent, Tickets are £5 on the door.