Seussical at The Customs House South Shields – Review
Students from the University of Sunderland delivered a vibrant and colourful performance that exuded professionalism in Seussical The Musical at the Customs House last week.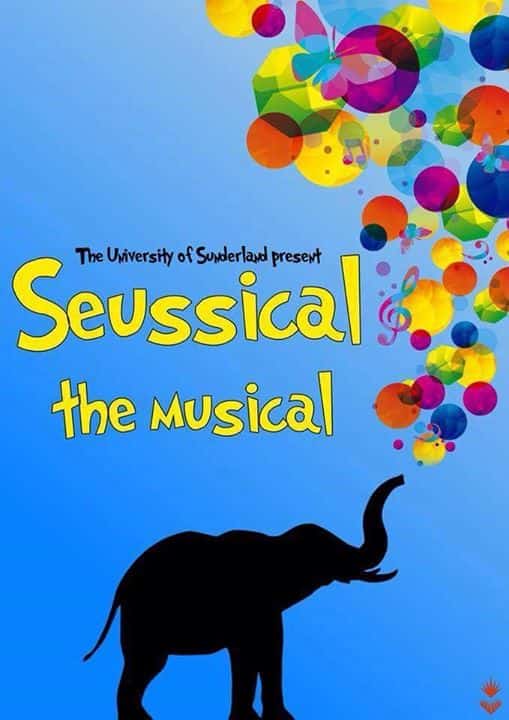 The show was high in energy and the talented cast sang and danced their way through lively and heart-warming chorus numbers to bring the wacky world of Dr. Seuss to life on stage.
The plot followed Dr. Seuss's fantastical gentle giant Horton the Elephant (Reece Sohdi) as he embarked on a mission to save the microscopic town of Whoville. The show contained prominent themes of morality, loyalty and friendship that spoke to a wide range of audience members.
Sohdi did a wonderful job in the principal role of Horton as he brought a very humble and compassionate interpretation to the character. His duet Alone In The Universe with Rebecca Welford (playing a Who named Jojo), was a beautifully touching song, but unfortunately the pair struggled through it and delivered some flat harmonies.
Nadene Frost took the stage by storm with her superb portrayal of Gertrude Mcfuzz, a clumsy one feathered bird who's secretly in love with Horton. She displayed an extraordinary vocal range as she sang her way through soft and emotional numbers such as Notice Me Horton, and the incredibly guttural and challenging All For You.
Aside from those mentioned, a plethora of Seuss's beloved fictional characters took to the stage, including The Cat in the Hat (James Taylor), The Grinch (Natasha Scotland), Thing One (Sophie Willis) and Thing Two (Jessica Bennet).
Taylor did a fantastic job in the role of the Cat as the narrator, delivering a passionate and energetic performance as he built a witty repertoire with the audience. The opening number Oh The Things You Can Think was delivered somewhat shakily by Taylor as he struggled to meet the vocal demands of the song. However, he particularly excelled in a beautiful bluesy number How Lucky You Are where he accompanied Mayzie La Bird (Stephanie Lightwing) in a charming duet. Lightwing soared above the rest with her stunning soprano voice and her clever embodiment of the selfish and flighty bird.
The costumes painted vivid and bright pictures on stage – a production element that made up for the minimal set. Although the rostra were colourfully decorated with Seussian trees the other parts of the set included simple cardboard character cut outs such as The Lorax, a bath tub, and a nest decorated with bright orange shredded paper. A simple back drop would have helped to enhance the magical feel of the production.
However, the musical relied on a low budget, so credit must be given where credit is due as the cast helped promote the story from an amateur production to a professional piece of theatre through their engaging storytelling.