Angelina Jolie proves she's better off camera than she is in front of it Review of her newest directorial role: First They Killed My Father
17th October 2017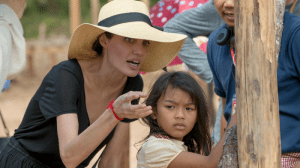 Netflix is a goldmine for great movies that are both entertaining and thought provoking. And Angelina Jolie's First They Killed My Father, which premiered on Netflix last month, is a must-watch.
Based on a biographical book by Loung Ung, the film follows young Loung and her family's struggles under the Khmer Rouge. We view the horrors of a seventies Cambodia 000when Loung's fami 11w`ly are forced to leave their home in Phnom Penh and sent to a rural camp where they are forced to dye their clothes to remove all individuality and perform back-breaking work. We view the story from the point of view of a child who has no real idea of what's going on and therefore, for a viewer without any knowledge of the political context of the film, it's still easy to follow and learn from.
When we think of genocide, we usually think of Hitler and the Holocaust. But through this film, Jolie shows us that history has so much more which we often overlook. The film brings to light the horrors which we may not be aware of, or have chosen to forget, in a fight for recognition. "I wanted to educate people, I wanted to do this for Cambodia," the director explained. "I didn't want it to be that small thing that disappeared." Jolie's personal ties with Cambodia, since her eldest son was adopted from there, makes her all the more passionate about her subject matter, and this passion definitely comes through in the finished film.
If you're looking for a light-hearted film, this is not one to watch. Its sheer emotional power can leave you feeling exhausted but thankful. Jolie manages to stay true to the story; there's not a moment she tries to candy-coat the deaths and struggles of her characters. Through the innocent eyes of the child characters, the horrors are all the more terrible, and yet we're reminded how resilient children can be. Sareum Srey Moch portrays the young protagonist very strongly; we can't help but warm to her and feel moved by the tragedies which her family go through.
It's becoming more of an issue for viewers when they watch a film expecting to find it racially accurate to instead discover that Hollywood have provided them with an all-white cast. Jolie avoids whitewashing her film with her decision to create it exclusively for Netflix. The director's decision to keep her film small meant that she could avoid the pressures of Hollywood and keep Loung's story as genuine as possible. The beautifully lush countryside of Cambodia makes for a visually pleasing and very authentic watch, especially when juxtaposed with the melancholy of the action.
For a film with very little dialogue, it's very easy to follow the story. The film's power lies more within what it tells us visually rather than what it tells us through voice. This technique simultaneously shows the lack of power the Cambodian citizens had, and yet nevertheless their strength.
We're left touched by the films ending, and yet haunted by the screams of the children calling out for their father and their siblings. It's no wonder why First They Killed My Father is a favourite to be nominated for Best Foreign Language Film at the 2018 Oscars in March. It is definitely amongst the greatest of my Netflix finds and I recommend you watch it whenever you get the chance.
Watch the trailer now at: https://www.netflix.com/gb/title/80067522