Award-winning ITV show Benidorm to become a stage-show
11th December 2017
The hit ITV comedy Benidorm is to be turned into a stage show to celebrate reaching its tenth series in 2018.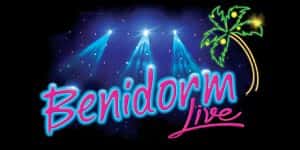 Benidorm Live will feature a new set of Alicante escapades written especially for the stage production by the show's creater Derren Litten. On making the transfer from screen to stage Litten said: "I've loveten years of writing my TV show Benidorm, but despite a successful writing career I'm first and foremost a performer so have always been secretly frustrated I couldn't hear the audience's laughter.
This national tour of Benidorm Live will not only make a long lasting dream come true but will also mean I no longer have to stand in strangers gardens listening at their 9 o'clock on cold winter evenings."
Six of the original cast members of Derren Litten's popular comedy show including Jake Canuso (lothario barman Mateo), Janine Duvitski, who is currently starring in the Sunderland Empire's pantomime Jack and the Beanstalk, (middle-aged swinger Jacqueline), Adam Gillen (holidaying teen Liam), Sherrie Hewson (Solana manageress Joyce Temple-Savage), Shelley Longworth (loud mouthed lass Sam) and Tony Maudsley (flamboyantly camp hairdresser Kenneth).
The show is being produced by Newcastle's own Michael Harrison, who recently brought Mel Brooks' Young Frankenstein to the stage, and David Owen. More tour dates are still yet to be announced.
Benidorm Live will be making its way to Newcastle from Friday September 7, 2018 until Saturday September 15, 2018.