REVIEW: Marmozets at Riverside Newcastle
10th February 2018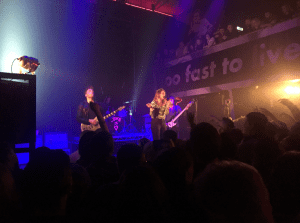 From busted noses and wild mosh pits, to Yorkshire chanting and even the band buying a fan a pint, it all happened last night at Marmozets' Riverside gig.
Playing to a sold out crowd, the band did not hold back their energy during their adrenaline filled performance.
Liverpool band Queen Zee and the Sasstones opened the show with some serious energetic vibes and performed songs such as Sass & Die and Porno, before taking a more serious tone talking about their support for the LGBTQ community and their song Fly the Pink Flag, written in aid of the 2016 Orlando Massacre attacks, which killed 49 people because of their sexuality.
Newcastle made sure Marmozets received a huge Toon welcome and cheered endlessly as they opened the show with a track from their new album, Knowing What You Know Now, New Religion and new single Habits which quickly got the crowd moving.
During one of their most popular songs, Move Shake Hide, from their debut album The Weird And Wonderful Marmozets, a section of the crowd got so excited, the mosh pits soon started and gosh, they were insane — maybe a little too insane, as one fan even bust his nose!
Heavy basslines, punchy drum beats and lead singer Becca's high pitched vocals filled the room, before they slowed things down with an incredible performance of Insomnia where calming blue and green strobe lights shone throughout the venue.
Like kids in a sweet shop, they bounced around to the first single released as part of their comeback, Play which sounded even better live.
Towards the end of the show, they played another absolute belter of a tune from the new album, Suffocation. Becca and Sam's combined vocals on the verses gave this song a real punk effect and the chorus played home to Becca's famous high pitch vocals, which seriously completed the song.
The show was certainly one to remember and it's great to have the guys back on tour. We can't wait for the next one.
Good Points: EVERYTHING!