Review: Paloma Faith at Metro Radio Arena 9/3/2018
23rd March 2018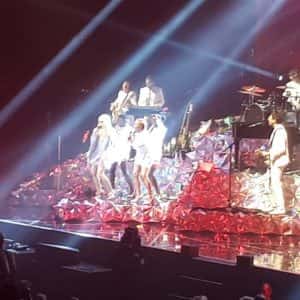 The arena was alive and jumping when Paloma Faith took to the stage. Dressed to impress in a pink fringed dress that strengthens the reputation she has for being a little bit different, she emerged from a trap door at the top of a set made to look like a cave full of crystals.
Opening with The Architect, the name of her fourth album and the tour, the crowd roared its approval. Moving on to her newest single Crybaby to get the crowd singing along, Ms Faith knew exactly how to keep the attention on her, twirling around so that the tassels on her dress sprayed out around her.
Throughout her show she delivered positive messages about being happy and confident in your body to doing 50p's worth of kindness every day. Her down to earth personality shone through every song she sang and was evident when she interacted with her band and backing singers. She gave each and every one of them an individual chance to show off and be in the spotlight which is something I have not seen from a lot of artists.
Stand out performances include WW3 (from her new album), Changes and Only Love Can Hurt Like This. While they were big numbers at times it felt like an intimate gig: the way she spoke to her audience, got them to sing along, even walking among the crowds on the floor at one point. It all made the audience feel like they were special.
It was special. Having never considered seeing her live before I was unsure of what to expect, however after this concert I'd be more than willing to see her again. From her dress, the songs and the overall atmosphere of the gig it was very enjoyable and positive and fun! That's down to Paloma's humor which is all the more reason for me to recommend seeing Paloma Faith live if you ever get the chance!