Michael Rice: Interview
If the gigantic smile that's tattooed to his face isn't a big enough hint that the news of winning £50,000 is overwhelming, then the fidgeting and sweaty palms do. From small-time busker to winner of BBC One's All Together Now, Michael Rice talks about his rise to stardom.
I didn't even get a chance to knock on the front door of the twenty-year-old singing sensation Michael Rice, from Hartlepool. He was already stood there, hair gelled, shirt ironed and face beaming with pride. The tiny and white Jack Russell yapping at our ankles is barely audible over the buzz in the family household.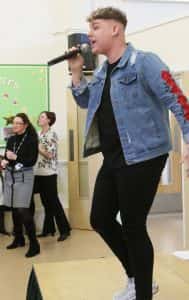 "My head is all over the place, I don't know what to do with myself and my phone hasn't stopped going crazy." Michael laughs, setting himself down in the living room and placing his constantly lit up phone beside him. His Nan, Carol Conroy, stands behind us observing her grandson with a sparkle in her eye. The families pride is spread across everyone's face as they crowd in the door frame to listen in.
"I've had such amazing support from everyone, my family have followed my every step. It was actually my Nan who helped me to busk in York when that video went viral." Referring to the YouTube video of Michael busking in York in a cramped alleyway in 2015. He stood nervously in an alleyway until his Nan told him to come and stand in the street and show everyone where the voice was coming from. "I remember singing and my Nan came over telling me that people were assuming the music was from a shop window from an actual artist when it was really from me stood with my microphone and speaker."
The former McDonald's employee attended Billingham Forum Theatre school from the age of six to thirteen, where he decided he wanted to pursue musical theatre and song writing. He's since moved onto performing at venues throughout the North East and in 2014 he made it to boot camp on The X Factor.
"It was a great opportunity being on the X Factor but being knocked back from that was a real knock back. So, when I got a phone call last year from BBC about All Together Now I was ecstatic. They rung people of all talents and experience then there's me who busks occasionally. I was actually stood hanging my washing out when I got the call." Laughing, he shakes his head reminiscing to moment he got the life changing phone call.
His first performance was a rendition of Tina Turner's Proud Mary. Michael managed to wow all 100 judges and the video has been viewed more than 400,000 times on YouTube. He continued onto the final sing-offs
and claimed the winning trophy with his winning rendition of Hallelujah.
"I got an ultimatum from my boss at McDonald's who said I can pursue a career with them or I can risk a lot and chase music." He scoffs and his face scrunches up before he shrugs. "Of course, I was going to choose music, I think I'll always choose music." At this point, his Mum joins us in the living room with Michael's nine-year-old brother, Ethan. His face beams at his now-famous older brother. Michael quickly steps out of the spotlight and announces: "My brother is really talented too, aren't you? He sings too and he plays instruments." Ethan blushes and nods after being acknowledged for following his brother's footsteps. "He's my biggest supporter, we were gutted when we heard that it was over 18's only that were allowed to come to the shows."
"The show was fully filmed in a week it was done so quickly. The team were amazing. I was nervous anyway as there's 100 judges, that's a lot of eyes! You don't realise how you've done until the spotlights flash and your score comes on the big boards. It's 60 seconds of putting your heart into a song and hoping you impress enough people. I didn't realise that all 100 judges had stood up for me until the end!" Explaining the layout and rundown of how the show worked, Michael described the friendliness of those he was surrounded by including the support from the BBC.
By this point there's a full family gathering going on, including the yapping dog. "I think I'll treat the family, since they've been here through it all and followed me about to support me." Ethan's face lit up with the thought. "I'm going to take everyone to Disneyland! £50,000 should cover that right? It's the least I can do. The rest of my money will go on my career, although my next steps are all up in the air at the minute."
The star and his entourage jump at the chance for more photographs and take turns standing beside the beaming Michael. Not once does the grin disappear from his face. "I still can't believe it, everyone is fussing over me and it just isn't sinking in. The support from everyone especially round Hartlepool is amazing and I'm so grateful to everyone." He says shaking my hand with his sweaty palm. I even have time for a selfie before we are rushed out as next reporter arrives.