Review: Sunday for Sammy 2018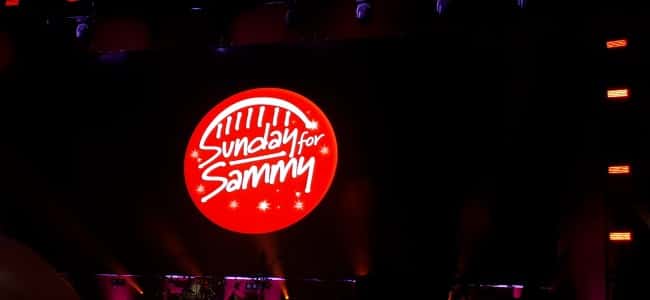 The bi-annual Geordie Royal Variety Performance returned in 2018 for its tenth Sunday for Sammy charity performance.
Held every two years, this year's show was held for the first time at the Metro Radio Arena in Newcastle – a venue that doesn't scream intimacy between the audience and performers, which the shows are known for creating. However the team somehow managed to maintain the rapport and intimacy with the audience even in this bigger venue.
The usual selection of Geordie royalty were there: Tim Healy and the Auf Wiedersehen Pet gang were causing mayhem in Miami; Denise Welch, Charlie Hardwick and Angie Lonsdale were trying to recapture their glory days as the Jazz Hands singing group; and there was comedy from Jason Cook and Rosie Ramsey as arena stewards, keeping their beady eyes on the audience.
To kick off the show, Saint Bobby Thompson (Peter Peverley) came down from Heaven to give us some words of wisdom before handing over to the brilliant Billy Mitchell and the house band for some music from Chelsea Halfpenny, Ray Stubbs and Jill Halfpenny.
There were also performances from some of the young performers in the North East who benefit from the Sunday for Sammy concerts, including a very talented dance troupe who performed a dance routine in tribute to Newcastle United.
It wouldn't be Sunday for Sammy without a few surprise guests and for the Arena show they pulled some big names out of the bag. Highlights included Johnny Vegas as a doctor in a hilarious sketch, Geordie Cops, including Vera star Brenda Blethyn  – and Joe McElderry's emotional rendition of Time To Say Goodbye, as well as his duet of Don't Let the Sun Go Down on Me with Jersey Boys star Ryan Molloy who also got the audience going with his version of Can't Take My Eyes Off You.
All too soon, the night was over and to finish the evening off the whole cast invaded the stage to sing the unofficial Geordie anthem Run for Home by Lindisfarne. The entire audience got to their feet to belt out the chorus along with the cast, waving their arms from side to side. It was such a good atmosphere and a lovely way to spend a Sunday night.
Sunday for Sammy is over for another two years but the proceeds from this year's show will go on to benefit many more performers from the North East for many years to come and that is what Sunday for Sammy is all about.