Why did Luca Guadagnino remake Suspiria?
27th February 2019
By Grace Crowley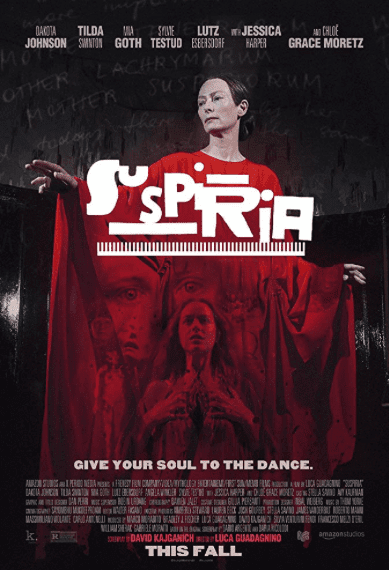 The 1977 Italian horror film Suspiria, directed by Dario Argento, is considered by many to be revolutionary and remains critically acclaimed, scoring 93% on Rotten Tomatoes.
The film follows Suzy Bannion, an American ballet dancer who is accepted to the prestigious Tanz Dance Academy in Germany, only to be faced with nightmarish horrors, from maggots falling from the ceiling to the mysterious death of her friend, Sara. The film reaches an intense climax involving witchcraft and Suzy escapes the institute and destroys the coven.
From the distinct colour scheme of lurid red and blue lighting, to the dreamlike score by rock band Goblin, the style of Suspiria was previously unseen in the 70s, and resulted in a new wave of neon-lighted films for years to come, from Ridley Scott's Blade Runner (1982) to Gaspar Noé's Enter the Void (2009).
It is inarguable that Argento's masterpiece was a pioneer in modern cinema, and on its 40th anniversary, director Luca Guadagnino announced that he was remaking the film with actors such as Dakota Johnson and Tilda Swinton, which was set to be released in 2018.
The reception of this announcement was varied, with some people lauding Guadagnino and placing high expectations on the remake, and others expressing the belief that Guadagnino, who directed the Oscar winning Call Me by Your Name, was the wrong director for the job, as his previous work was much more romantic, with soft colours and Mediterranean settings. Many others questioned why Suspiria had been selected for a remake, and what Guadagnino hoped to achieve by following in Argento's footsteps.
Argento's style was unlike any other and Suspiria more closely resembles an art film than horror. But, with the creation of countless films inspired by Argento, his legacy is starting to be forgotten.
The film isn't as easy to watch as many of the later films which it inspired: the original Suspiria is in Italian, and most of the versions released in this country feature an English dub which is initially confusing and hard to adapt to. This factor alone may already dissuade people from viewing Suspiria, decreasing its prominence as a major work to English film fans.
This is why Guadagnino's remake is important.
Although Guadagnino himself is Italian, the new Suspiria is in English, and a far easier watch. Although Guadagnino's direction does not reflect the directorial style of Argento, it creates a gateway for modern English-speaking viewers to encounter Argento, and recognise the importance and beauty of the original Suspiria, alongside his other works, such as Inferno and Deep Red.
One distinct feature of Suspiria is its strong female lead, with Argento rejecting the existence of the archetypal 'scream queen' role so commonly seen in early horror (such as Jamie Lee Curtis' Laurie in the 1978 film Halloween and Marilyn Burns' Sally in the 1974 film The Texas Chainsaw Massacre), which portraythe female protagonist as a weak damsel-in-distress.
Instead, Argento's Suzy Bannion is one of the many strong women in this film, defying the stereotypes and overcoming adversities without the help of a male counterpart. Guadagnino recreates this theme in his remake, with an almost entirely female cast, which perpetuates the theme of powerful women shown in its earlier counterpart. By doing this, Guadagnino acknowledges the importance of the creation of the strong female character in the 1970s, and brings Argento's pioneering work to a modern audience.
Guadagnino's Suspiria has been highly praised by critics, as the film does not directly copy the original but, in Guadagnino's words, is "an homage to the incredible emotion I felt when I saw it". Now, three months after the release of the film, Suspiria is still being talked about.
Guadagnino's film is generally considered a success, and will hopefully bring Argento back to prominence.