Review: This is Spinal Tap – thirty fifth anniversary
12th April 2019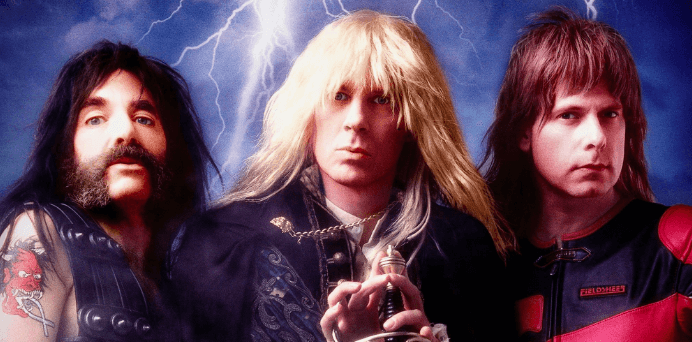 A classic 80s movie, once more brought to us by the prolific and ever talented Rob Reiner, This is Spinal Tap evaded me for so, so many years. My only knowledge of it was the "Turn it up to 11" joke, and that's only because they did a joke about it in an episode of Peep Show. Other than that slight nod, I'd not seen much of This is Spinal Tap, not in my cultural zeitgeist anyway. But I'd always known of its legacy, which as far as many are concerned is a truly great piece of cinema.  
So, what did I think? People care about my opinion somewhat (by which I mean my Dad, former English teacher and a couple of people I write for), and that inflates my ego in tremendous fashion. This is Spinal Tap is a good movie. Forgettable, but good. Reiner is as ever an extremely talented director but it's a shame his direction is somewhat lacking here. Not that it's bad, it's just not all that interesting.  
Comedy movies are very much hit or miss, it's the one genre I really struggle to review. I'm having that problem somewhat with This is Spinal Tap, mainly because the jokes are a very mixed bag. Some hit rather well, the interview sequences are hilarious but it's when the band is together outside of those staged segments that it begins to falter somewhat. Some of the gags aren't all that great and the lines don't often hit the mark they were aiming for. Still, the majority are chuckle-worthy, which is the best you can ask for with a comedy movie. 
Micheal McKean is definitely the highlighting point of this movie though. It's not that his performance stands out among the rest, it's just that he's probably the biggest name in the movie. Some of the larger jokes are dependent on him, and it's because of this that Harry Shearer and Christopher Guest excel so much.  
Given the slew of biopics about 1980s bands, it's a fresh change of pace to see that This is Spinal Tap has a nice comedic edge to it. If anything, it reminds me of The Dirt, a sloppy band of no-hopers sticking together through thick and thin. The Dirt certainly contained much of the same drama that features through This is Spinal Tap, and no, that isn't a compliment for The Dirt.  
Verbose, funny and a little shaky every now and then, This is Spinal Tap doesn't manage to turn it all the way up to eleven, but it manages to bump itself up to a comfortably loud six. No, I don't know music, I don't know where I'm going with that anecdote. It's a good movie, it aged well and by all means, is it still as funny as I presume it was thirty-five years ago.