Review: Whatever Works – tenth anniversary
12th April 2019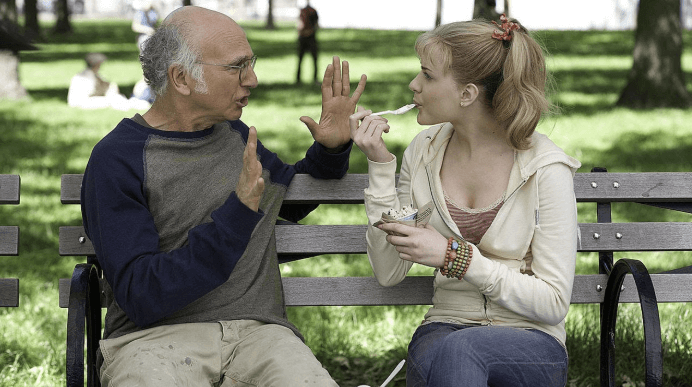 The strengths of Woody Allen's direction often coincide with his prolific leading man material. So to see him stay hidden away behind the camera always yields interesting and in this case, mediocre results. Modern Allen is often criticised as being nowhere near the standard of his 80s and 90s outputs, and rightly so. On the off chance that he makes a semi-decent modern movie, it's always proclaimed as a "return to form".  
Whatever Works is most definitely not that return to form. My interest in this was based solely on Allen's direction and the leading performance of Larry David, who has since become a favourite after I binge watched Curb Your Enthusiasm some time ago. David as a leading man doesn't work all that well, unfortunately. Not because he's not talented enough to take on such an imposing role, but because his consistent fourth wall breaking is enough to pull me out of the movie entirely.  
It's one thing to have narration, but it's another to have a character complain and conduct himself towards the camera at the most inopportune of times. Allen has always based his plot on his fear of age, death and romance, but it doesn't work when his characters are self-aware and know they're in a movie. This stops Boris Yellnikoff (David) being anything more than cannon fodder character building, stereotyping the neurotic, self-assured atheist that Allen always plays.  
With a truly scattered story, Allen's direction struggles to take the centre-piece of the movie, drowning in a story that is filled to the brim with obnoxious realisations, bit-part characters and that consistently horrific fourth wall breaking. 
But it's still somewhat nice to see Allen is trying new things, rather than sticking to the formula that has since become stale with outputs like Café Society. Those fourth wall breaks may be poorly structured, but it's nice to see Allen shifting the focus of his screenplays onto new inputs and techniques, however much they fail. 
Maybe they fail because the screenplay is weak. There's only so much you can do with a screenplay this bland, and the happy ending is unsettling, to say the least. David isn't so much a bad lead; more he's placed in a role that doesn't suit anyone. It's a bad role, trapped in a mediocre movie, and it's mediocre because its script is appalling. Some really middle-ground Allen work here, only worth watching if you're in desperate need of watching his entire filmography.