A Second look at Avengers Endgame
25th April 2019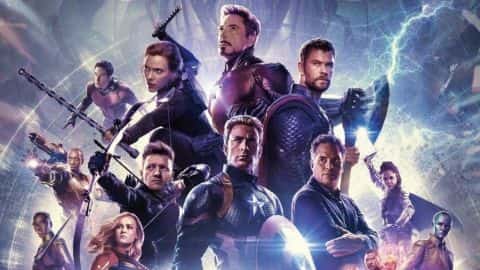 This is it. 
The cinematic event of 2019 has finally arrived. After much anticipation from fans all over the world, the final chapter of Phase 4 of Marvel's Cinematic Universe (MCU) has landed.
And it did not disappoint.
A culmination of 10 years and 22 films, Endgame is Marvel's masterpiece, the jewel in its crown. Having only been a fan of the MCU for 3 years, I haven't exactly grown up with the characters. But, since viewing my first superhero film, I have fallen in love with the universe and its characters, so to see the film at midnight was amazing.
Pretty much every part of the film gives away a plot spoiler, so there's not a lot I can speak about, however it's safe to say that Endgame picks up right where Infinity War left off. From there comes a film filled with every twist, turn, and emotion you could possibly imagine.
I laughed. I cried. I gasped. I cheered. I applauded. Endgame is a rollercoaster and I loved how everyone in that screening was watching this spectacle as one, experiencing it together. Not many franchises can do that, but Marvel has done it brilliantly.
Let's begin with the acting. It was superb.
The core six of Chris Evans (Steve Rogers/CaptainAmerica), Robert Downey Jr. (Tony Stark/Iron Man), Chris Hemsworth (Thor), Jeremy Renner (Hawkeye), Scarlett Johansson (Black Widow) and Mark Ruffalo (Bruce Banner/The Hulk) were all on top form. Stand out performances go to Evans and Downey Jr, who have created and embodied the two of the most iconic Marvel characters for the past decade. I was also pleased to see Renner get more screen-time in this film as I feel he was often underused in past Avengers films.
Of course, the supporting cast were also spectacular, with Don Cheadle as War Machine, Brie Larson as Captain Marvel, Bradley Cooper as Rocket Racoon, Karen Gillen as Nebula, and Paul Rudd as Ant-Man. However there is no denying that, while Infinity War was Josh Brolin's film as it was very Thanos-centric, Endgame is all about the original six Avengers finishing what they started all those years ago.
On top of this, the special effects for this film were off the scale. Technology has come a long way in the last 10 years (fittingly so has the MCU) so to see as many effects in one film is a sight to behold.   I tip my metaphorical hat to the effects team as they have truly outdone themselves this time: one scene in particular comes to mind when thinking about the skill of these people – but that would spoil the film so I won't say anything more. You'll know it when you see it. Trust me.
Lastly, this film contains the last cameo of the late, great Stan Lee.  When we spotted him onscreen there were a few who applauded it in tribute. This truly is his most fitting cameo, and made the film all the more emotional. Speaking of cameos, there's a surprise cameo too: true Marvel fans will love it.
I can't really say much more other than it had me feeling all sort of emotions and I was in tears by the end of it.  Endgame is the feather in Marvel's cap, it's truly a spectacle for the ages. What the future holds for the Avengers franchise remains to be seen, but Marvel will continue long into the future, with several sequels already planned for certain heroes.
So, for one last time, Avengers, assemble!
Avengers:Endgame is out in cinemas in the UK from Thursday, April 25, 2019 and worldwide from Friday April 26, 2019.