REVIEW: Game of Thrones, Season Eight: Episode 4 – The Last of The Starks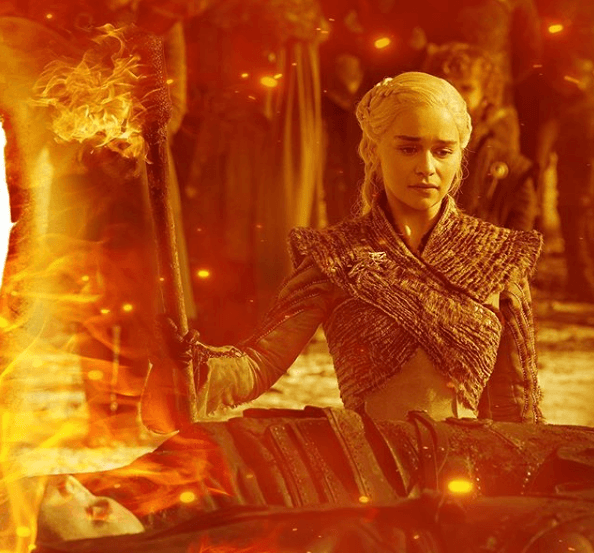 Credit: @gameofthrones (instagram)
In the wake of the slim victory that we saw our beloved characters win last week in episode three: 'The Long Night', the fourth episode follows on with the morning immediately after. In this scene we see Jorah Mormont (Iain Glen), Lyanna Mormont (Bella Ramsey) and Eddison Tollett (Ben Crompton) all being set on fire, on pyres.
Credit: GIPHY
The majority of the episode, like most of the season so far, felt like filler. They celebrated their victory over the Night King's army for around half of the episode before they even thought about discussing possible strategies for their march to Kings Landing – and when they got to it, there wasn't much of it.
Following on from the 'intimate' moment Arya (Maisie Williams) & Gendry (Joe Dempsie) shared together in episode two, their arc was developed a little further. When Gendry, who'd been illegitimate all his life, received the surname of his late father (King Robert Baratheon) from Daenerys (Emilia Clarke) he also gained the title of Lord, becoming Lord Gendry Baratheon of Storm's End. Using this he declared his love for Arya and proposed to her to be his wife, which she shot down. Awkward.
Credit: GIPHY
It's notorious for it's shocking plot twists throughout the entire show but this episode of Game of Thrones was the first in the entire franchise to actually upset me.
When Jon asked Tormund Giantsbane (Kristofer Hivju) to take Ghost, the Direwolf (who, surprisingly, survived the charge into the dead last week, minus one ear) up past the wall in the north, broke my heart.  This was emotional because, as I stated in my last review, the Direwolf has been loyal to Snow since he received him in season one.  Thinking of all the times Jon had been followed by Ghost past the wall when he was a member of the Nights Watch, to the time he was murdered in a mutiny (Ghost was by his side when he came back from the dead) it was too much to take.
Other fans have came to Ghost's rescue on Twitter, following Jon's harsh treatment of the wolf:
Not even a pat on the head for the faithful #Direwolf #Ghost. My ❤️ is broken. Not cool #GameofThrones #JonSnow #TheLastStark pic.twitter.com/NIWVxmyNm8

— Tab Byrum (@TabulousDesign) May 6, 2019
. @PetRescue Ghost the lovable Direwolf is looking for a new home. Abandoned by owner who is heading south. Would prefer a cold northern location. Very loyal, but not great with White Walkers. Ghost would be a great addition to your family & can't wait to find his forever home. pic.twitter.com/AmuBLga7d9

— Stuart Hall (@stuartkhall) May 6, 2019
Although it is highly likely that this will be the last time that we will actually see Ghost, there is still time for him and Tormund to turn around and help Jon fight at King's Landing.
Bronn (Jerome Flynn) finally tracked down Tyrion (Peter Dinklage) and Jamie Lannister (Nikolaj Coster-Waldau) in this episode, to complete the task given to him by Qyburn (Anton Lesser), on the instruction of Queen Cersei (Lena Headey).  Although, not surprisingly, he didn't kill them like he'd been instructed to. Instead he made a callout to a previous time he and Tyrion talked, recalling the fact that Tyrion would double whatever the contract was for his life.  This time, the Little Lion promised him the region called Highgarden.
Whether or not he can keep this promise will remain to be seen until the end of the season. However, a Lannister always repays his debts.
Jamie seems to be a confusing character at the moment. He abandoned Cersei to fight the dead, helped Ser Brienne of Tarth (Gwendoline Christie) lose her virginity and then fled back to Cersei! Really! To be fair, him getting together with Brienne shows that he is getting over Cersei, but really! Going back to her, makes no logical sense – unless he plans to change his former nickname, Kingslayer, to Queenslayer. I hope he doesn't go back to help save Cersei, otherwise his redemption arc was for nothing.
Credit: GIPHY
Jon Snow (Kit Harington) and Daenerys seem to understand and be coming to grips with their confusing and complicated relationship, although this didn't stop Dany from making out with her nephew.
Credit: GIPHY
It is rumoured in GoT lore that Targaryens would usually commit incestous acts, like marrying their cousin, to ensure that their bloodline is 'pure'. So in this case, could Dany and Jon do the same?
Daenerys has requested that Jon keeps his heritage a secret from everyone, including his family. Does this suggest the potential queen-to-be is desperate not lose her claim to the throne to someone who, it turns out, has a stronger claim? Yes, it does.
Since Jon has already informed Sansa (Sophie Turner) and Arya of his true heritage, this could have some sort of boomerang effect on the remainder of the season if they win the oncoming war at King's Landing.  Will Dany and Jon come to a smooth conclusion at the end of the show? We will have to wait and see.
Credit: GIPHY
Cersei, in my opinion, has now turned into the female version of the mad king, the ruler which Robert Baratheon's rebellion was up against in the backstory of the show before season one.  After Rhaegal (one of Dany's two remaining dragons), is killed by Euron Greyjoy (Pilou Asbæk) using the huge, giant crossbow (is he over contemplating for something?) it seems obvious Dany will retaliate, most likely with her last dragon, Drogon.
Credit: GIPHY
Cersei allows her people entry, "protecting" them with the walls of the Red Keep. While it is all a nice gesture and all, it is very sinister: we know she is going to use her own people as a human shield really. If Dany uses Drogon to burn the Red Keep to kill the ruling Queen, she is going to kill hundreds – if not thousands – of people who reside in King's Landing.
When Tyrion and Varys (Conleth Hill) are discussing the option to put Jon onto the Iron Throne in the throne room, they're discussing treason. Could someone, just offscreen, be just around the corner listening into their conversation? This could seriously impact the final two episodes.
Excluding the fact that Missandei (Nathalie Emmanuel) just lost her head – literally – courtesy of the resurrected Ser Gregor Clegane aka The Mountain (Hafþór Júlíus Björnsson), why does Daenerys have her last surviving dragon, Drogon, so close to the walls of Kings Landing?!  Not only that, SHE HAS HIM STANDING IN THE OPEN!
If Cersei wanted to make it even harder for Dany to storm the capital of Westeros, why didn't she just order every single crossbow to fire directly at the dragon's direction? Both Cersei and Daenerys know that the giant crossbow will kill the creature, so why not use it while he's vulnerable standing out in the open?
Credit: GIPHY
Here's next week's trailer for the penultimate episode:
Credit: GameofThrones