Review: Pokemon – Detective Pikachu
17th May 2019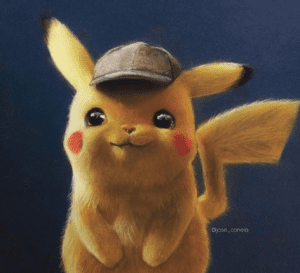 Credit: @detectivepikachumovie (Instagram)
Ryan Reynolds stars as the small, fluffy and cute pokemon, Pikachu.
I will warn you, this review won't go to heavily into detail of the film, but it will be discussing the good and the bad points – and the plot hole – in this film. Consider this your SPOILER WARNING.
Credit: GIPHY
The film starts out with a Mewtwo breaking out of some sort of secret facility, chasing down a fleeing car before it is blown off the edge of a bridge – and that is all we get in terms of a prologue.
It next follows Tim Goodman (Justice Smith), who used to be a Pokemon trainer before he took up a career as an insurance advisor. Like me,  you may instantly realise, connecting the dots between the crash in the prologue and the call he gets, you understand that the person fleeing the secret facility is Tim's estranged father.
This is the start of many annoying problems for the audience: the father, Harry Goodman (also played by Reynolds), is never identified until THE VERY END of the film! This brings with it one hell of a big plot hole in my mind, but more on that later.
When he finally ends up going to his dad's apartment, we finally get to meet the cute little furball. This, in my opinion, is where the film starts getting interesting.
Credit: GIPHY
Reynolds, being somewhat funny or quirky in whatever he plays, always gets the audience laughing, whether this be giggling, chuckling or all out, belly hurting, laughter. This film is no different: there are definitely some chuckle and giggles, just not the all out laughter.  
The CGI could have been better – it is 2019 at the end of the day – and great advances in the technology have been made. It just seems at some parts, such as when Tim has to hold Pikachu, it looks like he is just holding nothing. The chances are he actually is holding some sort of green screen prop but it just looks horrible in some parts.  In turn, this took away from the feeling of being immersed in the film.
However, to be fair, apart from those moments, the CGI was otherwise okay.
The thing I like about films like these, although they're really suited to children more than adults, they still have some sort of mental puzzle you have to solve from around 15-20 minutes in to the end. This is probably more for the sake of parents than students like myself, but it's still enjoyable, nevertheless.
Now, the plot hole.
Credit: GIPHY
It concerns Pikachu being Tim's dad.
Yeah, you read that right, Pikachu is Tim's dad. It isn't shown how he is until near the end of the movie.
However, it turns out that the crash at the very beginning of the movie is Tim's dad, who was driving and was critically injured in the process. Pikachu sacrifices his body to harness the body and soul (I'm guessing) of Harry's, to preserve his life.  I'm not going to lie, that loyal and humble moment when you find that out nearly made me tear a little.
But this leads onto the plot hole that had my mind racked after watching it. If Tim has memories of his dad (no doubt he spoke to him before his mother passed away) how could he not recognise his own father's voice? I understand the fact that, yeah, they hadn't seen each other for a while, but surely something must have registered in his head that the voice sounded familiar.
But no.
Overall, it's an okay film, great if you're a child, but the adults (including parents) won't enjoy it as much as the kids do – Unless they're massive fans of Pokemon, then they'll be right at home.
It is definitely a must watch for the avid pokemon fan, and because it's getting to that time of the year (summer and the long school holiday), it should be on every parent's watchlist in case of an entertainment-related emergency.
Rating: 3.75/5