Album Review: Akvamarin – Gravel Shores
27th January 2020
Daniel Czako, Hungarian singer-songwriter and session musician also known as Gravel Shores, was kind enough to send us a copy of his newest album Akvamarin, which I had the pleasure of listening to! This record was produced by private Hungarian label Spiritside Productions and is advertised as 'nihilism never sounded this good', which I think is a perfect way to describe the tone of the album.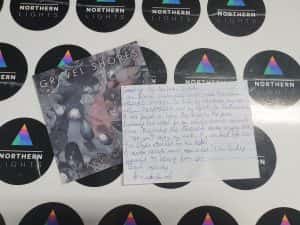 His music style seems to mix ethereal emo influences with electro-pop, making for a very varied and very interesting sound. Despite quite an upbeat instrumental to most of his songs, I would still consider his sound to be quite melancholy in nature and if Czako was ever to give screamo a go, I wouldn't be shocked at all. In fact, there's a hint of the screamo growl in the background of Mediterranevm to complement the wailing, depressed vocals and emo instrumentals – something I could imagine Of Mice & Men or Bring Me The Horizon being completely hyped up for.
My initial reaction to this album was actually similar to my reaction to bands like The Smiths, where I considered turning all the lights off and laying on the floor to truly let the sound hit me in all the leftover gaps from my emo phase in high school, which to me suggests that the album is sub-consciously hard hitting and not one to listen to if you're in the best of moods. 
Personally, I would recommend Towers, Salt, I Follow The Snow and Time To Leave as my high points for the album – they're compositionally a little more interesting than the other songs and offer a more interesting sound – with the first two songs being quite upbeat and almost catchy. If Salt was sung by a mainstream pop artist then it would have the potential to chart, with a heavy synth sound and a drum beat not too dissimilar to trap music produced by Migos or Future. With soft vocals and a quick drum beat enriching a gentle electro-pop instrumental, Towers has a particularly delicate sound in comparison to the rest of the album.
I Follow The Snow and Time To Leave are very different recommendations to Towers and Salt, offering a very raw emotion to the album – I Follow The Snow focuses more on the vocals and lyrics as opposed to grand and exciting instrumentals; Time To Leave is backed by a bittersweet piano melody and a small use of synth to create a genuinely sad song filled with feeling.
I did think that there were a couple of songs on this album that I simply couldn't get into, those being Final Revelation and Full of None, which I didn't consider to be bad songs but unfortunately lacked any kind of unique selling point or variation that made them stand out – if someone were to ask me about this album six months down the line, I probably wouldn't mention these over the four I touched on earlier. 
Overall, I would recommend this album to anyone looking for something a little more unique and interesting to broaden their musical horizons and I would be interested to hear any of Gravel Shores' new music in the future, but I am unlikely to revisit this album myself as a whole – however, Towers and Salt will be making my playlists at some point!