Music collective 'The Rookery' hold launch event on Saturday February 25
22nd February 2017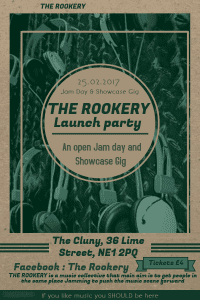 Originally hailing from Bolton, music collective 'The Rookery' will celebrate their launch in Newcastle on the 25th of February at the Cluny.
The event's goal is to bring music lovers together and round up emerging bands, musicians and creatives from across the North East for an improvised performance.
Following a day of drop in jamming sessions by local artists from 11am to 6pm, the event will end with a showcase gig that will take place from 7pm onwards.
The gig itself will show off the music everyone involved has done during the day, as well as any pre-prepared songs the artists have written.
Despite being an improvised event with the full list of musicians yet to be determined, there will be appearances from the Newcastle based Ska band Kahuna and funk band Philonious Funk,  as well as the Northumbria Gig society and local record label Override records.
The Rookery was founded by musicians Robert Nugent and Joey Swindells who became inspired by a Ted Talk delivered by old school punk musician John Rob on the: "DIY nature of punk and how if you want to do music, you pick up anything you can find and you make music happen".
Joey recalls the pair knowing many great musicians and being frustrated that none of them were getting the attention they deserved, and so The Rookery was born.
Wasting no time they rounded up as many musicians as they could and organised weekly performances at their local bar.
In addition to these DIY style events, Joey and Rob utilised talented individuals in sound recording, film making, photography, art and fashion to create a fully improvised 18 track album, a selection of photographs, 'The Rookery' clothing line and enough content for a documentary.
Now it seems their formula has grown in size with their first launch outside of Bolton taking place in Newcastle, and they plan to do the same in Leeds and Manchester by September.
Tickets are available here for £4.00 and the event is for those aged 18 and over.
For updates check out the Facebook event page here.