Review: Fans at Live Theatre, Newcastle
10th October 2018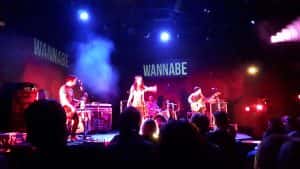 Four characters. Four stories. One passion. The story of Fans is one of four friends trying to form their own band so they can be the next big thing.
Along the way we see creative differences over their sound, as well as what they should call themselves. All of this is glued together with their shared passion: the music.
The characters are all incredibly relatable; you may identify with one particular character and recognise your friends in others, or you may be a combination of all four. The fact that you can identify with them at all is one of the reasons this unique production is so enjoyable.
The stand out characters, however, are Andrew (the drummer and peacemaker), and Megan (the guitarist). These two could easily be lost under the others' bold personalities, but their gentleness and genuine passion for music is what makes them stand out. That and Andrew's show-stealing expressions during certain scenes.
At the centre of it all is the music.
Played live, we get taken through the characters' stories via their own personal music sections. From bassist Chris' love of Greenday – the actor's singing voice is very Billy Joe-esque – through to Charlie's (the lead singer and diva) love of Madonna, each section will get you foot-tapping to at least one song.
A highlight of these sections is when the characters describe Charlie's 'emo phase' starting with the Evanescence classic 'Bring Me To Life'. Whether you went through a full emo phase like Charlie, or you just liked jamming out to it, memories of school will be evoked.
Fans is for anyone who loves music and wants a touch of nostalgia.