Spoiler free review: Instant Family
20th February 2019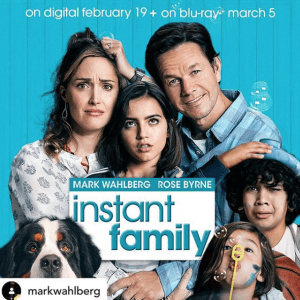 Credit: Instagram
Mark Wahlberg and Rose Byrne star in this feel-good film of 2019, that was inspired by real-life events.
The film brings both comedy and drama that pulls on each and every one of your heartstrings. It follows Pete (Wahlberg) and Ellie (Byrne); House renovators, as they decide to juggle both their job and fostering after they realise how many children are in the American foster care system.
Fostering a tough-to-handle 15-year-old; Lizzy (Isabela Moner) and her two younger siblings; Juan (Gustavo Quiroz) and Lita (Julianna Gamiz), the film shows us in comedic ways how the two foster parents adapt into parenthood overnight.
However, with every drama, there is always a heartbreaking twist. But we won't go into it, to avoid spoiling the film.
It might break your heart and make you reach for the tissues, and I'm not going to lie, it nearly got me.
This film should definitely be on your watch list and it will make the top 10 (if not five) list of my top films of 2019.
Just remember to take some tissues, or you'll be crying into your popcorn.