Opinion: Northern Lights' Music Taste
5th February 2020
During my first term at university, I spent a lot of time with Northern Lights – often trying to write last-minute essays for my modules and trying not to get distracted by the news on the telly. In that time, I watched as Spark took down their mood board for the top 50 indie and alternative albums of the decade, and I looked on as we created a similar list. By the time I left university to go back home for Christmas, 59 eclectic albums had made the list, and I vowed to myself that I'd pick my favourites and write a piece about it. This took me almost two months and completely took over my life…
How does one go about picking favourites, let alone telling other people what they should listen to? That's where the categories came in. I took five main factors into consideration: my immediate reaction to the album; how varied the album was in terms of ups, downs, compositions; how easy it would be to belt the album out in the shower; how it sounded through earphones and through speakers; and how likely I would revisit the album after its first listen. I figured people wouldn't actually be all that interested in how music sounds through different receptacles, so that left me with four categories. Easy! We'll pick the best five from those.
Let's start with the bad and ugly. Kanye West's 'My Beautiful Dark Twisted Fantasy' (2010) could have been half the length, with many of the songs lasting far too long. Plus, many of the themes are completely distasteful and difficult to listen to.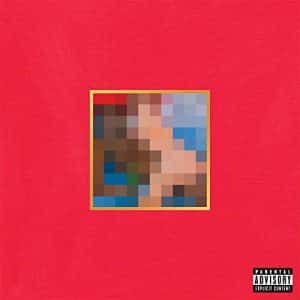 Time to talk about variety. I looked through the albums to find ones which had particularly interesting structures, or even if they followed a kind of structure at all. I find that there isn't much worse than listening to an album where everything sounds exactly the same. Here were my top five picks:
'Art Angels' – Grimes (2015): An artistic mashup of alt-rock, dance and pop princess to create a fast-paced witchy sound to vibe to at 3am.
'Madame X' – Madonna (2019): A fantastic storytelling album with lots of ups and downs, as well as international influence and multilingual lyrics to really give you a sensational experience.
'ARTPOP' – Lady Gaga (2013): A varied dance pop album with plenty of attitude and sexual energy.
'MASSEDUCTION' – St. Vincent (2017): Pop rock music with a techno twist – every song sounds different but with an overlay of St. Vincent's dramatic, raw voice.
'An Awesome Wave' – alt-J (2012): A very atmospheric, alternative album with a hint of gloominess – for maximum effect, listen with earphones!





Now for some belters. We all love good songs to sing at the top of our voices – even the grumpiest of people have that one song that does it for them. This decade has been chock full of pop music, so this category mostly ended up being a battle of the pop stars. However, they're infectiously catchy, have great lyrics, and put people in a good mood. What more could you want?
'LM5' – Little Mix (2018): A catchy pop album with very few low points to the album – practically all of the songs are brilliant and really enjoyable to listen to!
'Death of a Bachelor' – Panic! At The Disco (2016): A very poppy album from a classic pop punk band, with plenty of good songs to belt at the top of your lungs and dance about to.
'thank u, next' – Ariana Grande (2019): A 'fun' pop album with R&B influences from a very talented singer but not as good as advertised, with a lack of substance.
'Tourist History' – Two Door Cinema Club (2010): An indie-pop classic, perfect for sinking ciders at a festival or dancing about your room in your pants.
'AM' – Arctic Monkeys (2013): The cornerstone for the new wave of indie and the new wave of Arctic Monkeys – very good for singing to, but quite bland in the grand scheme of things.





Be honest, do you actually listen to albums front-to-back? If you answered yes, then you're already more dedicated than me in my day to day life.  Nevertheless, there are still albums that truly deserve to be played front-to-back and back-to-front because they're just that good! Here are five albums I'd be more than happy to keep listening to over and over again:
'Come Around Sundown' – Kings of Leon (2010): A really good rock album with quite a calm vibe – very easy to listen to.
'Yesterday's Gone' – Loyle Carner (2017): This album is like the equivalent of a deep tissue massage, it could be comparable to sex for your soul, the lyrics are rich and full of meaning and the hip-hop instrumental is thick but still casual enough to sooth your brain.
'In Love' – Peace (2013): A classic indie album with plenty of alternative influences and lots of variety between songs, really great for a jam session!
'Carrie & Lowell' – Sufjan Stevens (2015): An atmospheric, sad album perfect for moping alone at 1am and romanticising a love story way before your time.
'Joy as an Act of Resistance.' – IDLES (2018): Takes me back to moshing in tiny venues to my friends' bands, I never got bored within the cacophony of sounds and would immediately buy a ticket to see them for the experience.





The main event: my top five albums from the list. This was incredibly hard work and if I had the chance to do it again, I absolutely wouldn't. However, I've learnt so much about my peers and about music as a whole, so I guess there have been some benefits to this project!
I would like to thank everyone who added to the list, no matter how random the suggestions, and also thank my mum for paying for Spotify Premium – couldn't have done it without you…
'Electronic Earth' – Labrinth (2012): A really good album for defining chart-topping music early in the decade, lots of variation between songs with upbeat pop and R&B tunes.
'1989' – Taylor Swift (2014): An incredibly fun album by one of the pop industry's most famous princesses – almost every single song is worth singing along to!
'Tape Deck Heart' – Frank Turner (2013):  A masterpiece of a folk punk album that instills a little bit of rock and roll into anyone listening and provides a good soundtrack for overcoming your problems.
'1992 Deluxe' – Princess Nokia (2017): An album chock full of pure lyrical talent – smooth raps over creative hip-hop instrumentals.
'Nonagon Infinity' – King Gizzard & The Lizard Wizard (2016): Fun, fast-paced rock and roll bangers – bonus points to this album for being one seamless run-through as opposed to changing the pace per song!