Review: Jersey Boys
23rd March 2018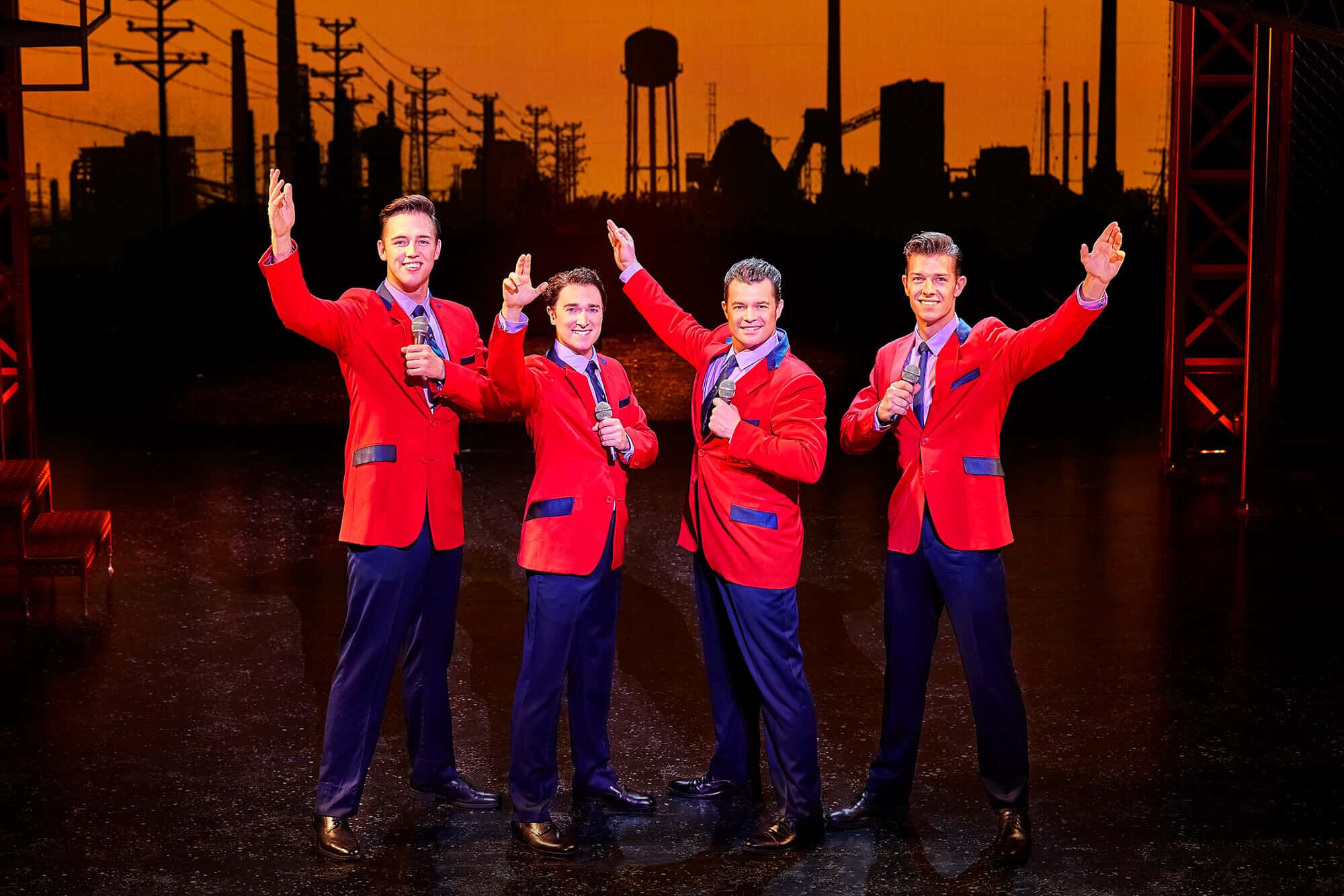 Identity: who you are, how you distinguish yourself and how you portray yourself in the eyes of others. This theme is heavily present in Jersey Boys.
Starring Simon Bailey (Tommy Devito), Dayle Hodge (Frankie Valli), Declan Egan (Bob Guadio), and Lewis Griffths (Nick Massi), they form a band titled 'The Four Seasons', living New Jersey with big dreams and egos to match.
Directed by Des McAnuff and set in 1960s America, you would expect an extravagant set with vintage chairs, white sparkly boas, and vibrant outfits but it's the opposite.
'Walk Like A Man', 'Beggin' and 'Can't Take My Eyes Off You' are delivered with an impeccable amount of energy and tone by the assisting orchestra. The infectious harmonies get the audience standing up to dance and rhythmically clapping along.
The story follows the struggle of finding yourself, conflict of friendship, fame and family issues. The mise-en-scene is stripped back and simplistic – probably to get us to focus on the moral of the story, rather than be wooed or distracted by what could be argued is a blinding amount of colour on stage.
Jersey Boys opens with the French song 'Ces Soirees-La' performed by rap star and backup group. The pitch was flat to begin with and the costumes were a mismatch as the singer was dressed in urban clothing whilst the ladies in cowgirl outfits – it felt out of place and disorganised.
Everyone who has seen the tweets, videos or online posts about Jersey Boys will have a brief idea that the story revolves around the lead singer, Frank. I think otherwise. Bob (pianist and vocals) is the standout star. He's driven, passionate and honest. While the storm brews between Frankie and Tommy, Bob's eyes are always kept on the 'prize' – success. A record breaking number of plays on the radio. Writing music that can gain them millions of fans. Going global. Bassist Nick experiences internal conflict about his aspirations, and future goals.
However, they all have one thing in common – they're lost, mentally. Throughout most of the musical they search for security, love, and respect through money. The Four Seasons chase stardom, women and stability through a green piece of paper. They let this define who they are as individuals rather than celebrate it as the outcome of their talent.
It makes us question how we value ourselves and where we 'seek' self-worth. Is your happiness measured by materialistic things: how much money you've got, how many places you've travelled to or if you've got the newest tech? Are you the type of person who is content with what they have but still striving to become the best versions of themselves like Bob?
Jersey Boys is showing at Sunderland Empire until Saturday 31 March 2018. Tickets and more information here: http://www.atgtickets.com/shows/jersey-boys/sunderland-empire/